When a brand like Kef hits the wireless headphone market, we listen. Faced with serious competitors from Apple, Bose, Jabra, Sennheiser, and Sony, do the Mu3s have their place among the elite of wireless headphones?
Entering a market as competitive as that of wireless headphones when you are a prestigious audio brand like Kef is no easy task. There is no question of doing things by halves or of disappointing all those who will imagine that Kef headphones necessarily have exceptional audio quality. This is why we wanted to test the Mu3s for several weeks before delivering our verdict.
A unique design signed Ross Lovegrove
The first thing that leaps to the eye when you discover the MU3 and their case is that they are unlike any existing model. Kef gave them a unique identity and style by bringing in industrial designer Ross Lovegrove. Known for his organic approach which draws its inspiration from nature, it is to him that we owe the incredible Kef Muon Hi-Fi speakers at 150,000 euros. The Mu3 takes the fluid design of the Muon and a faux aluminum finish of the nicest effect. We immediately want to touch the case, which offers a touch as soft and sensual as its shapes suggest. The coating, which does not mark at all under the fingers, and a very well-adjusted assembly perfectly create the illusion of metal while everything is only plastic. The opening of the case is also very satisfactory, the cover keeping any position given to it. It provides 15 hours of extra charge to the headphones and recharges itself via a USB-C cable.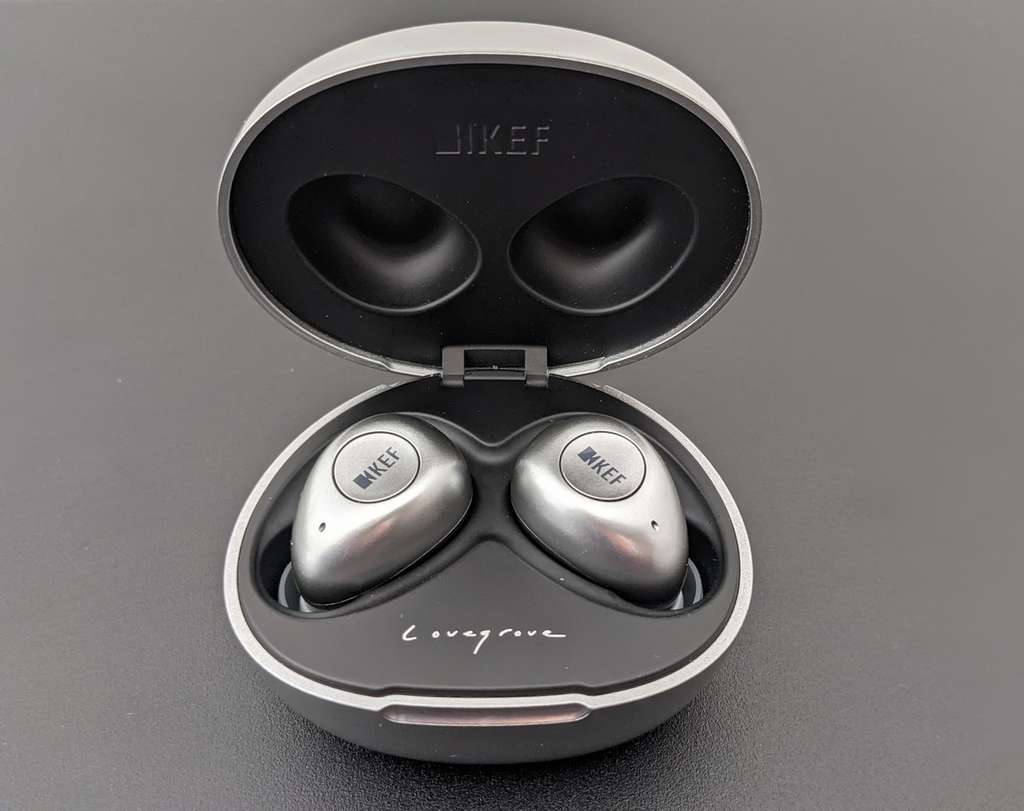 The headphones have a fairly basic design, a bit in the shape of a bean, but without the slightest roughness. No fin or protruding part to come to wedge in the ear. The in-ear design is quite short and not very intrusive. A good point for comfort and to avoid the plug effect caused by some models. On the other hand, it is absolutely necessary to choose with care the pair of silicone tips among the four supplied to achieve a sufficiently stable and airtight fit. The Mu3 easily find their place in the hollow of the ear with a small quarter turn. They are compact, relatively discreet, and comfortable to wear for a long time. The curved button on their external face falls intuitively under the finger and facilitates access to the onboard controls. Can we use them for sports? In theory yes since they are classified IPX 5 and therefore resistant to splashes. But we tried to run with them and they weren't holding up very well. Still, the maintenance will really depend on the morphology of each.
All for the music
Kef promises a " pure and precise sound " and we can say that the promise is kept. The Mu3 are clear and very balanced. We particularly appreciated the very tight position of the bass, which is never overwhelming while still offering enough depth. They are there when needed. The highs are crisp and the mids are precise.
Most audiophiles will appreciate this sense of balance that is not so common among high-end wireless headphones. A quality that gives great versatility and a real listening comfort to the Mu3 which ranks among the best models. You have to push the volume to around 60 to 70% for the Mu3 to give its full potential. Fans of jazz, rock, and chiseled pop will love these headphones. The only downside is the absence of the AptX codec, which is far from prohibitive but could be taken for granted given the price.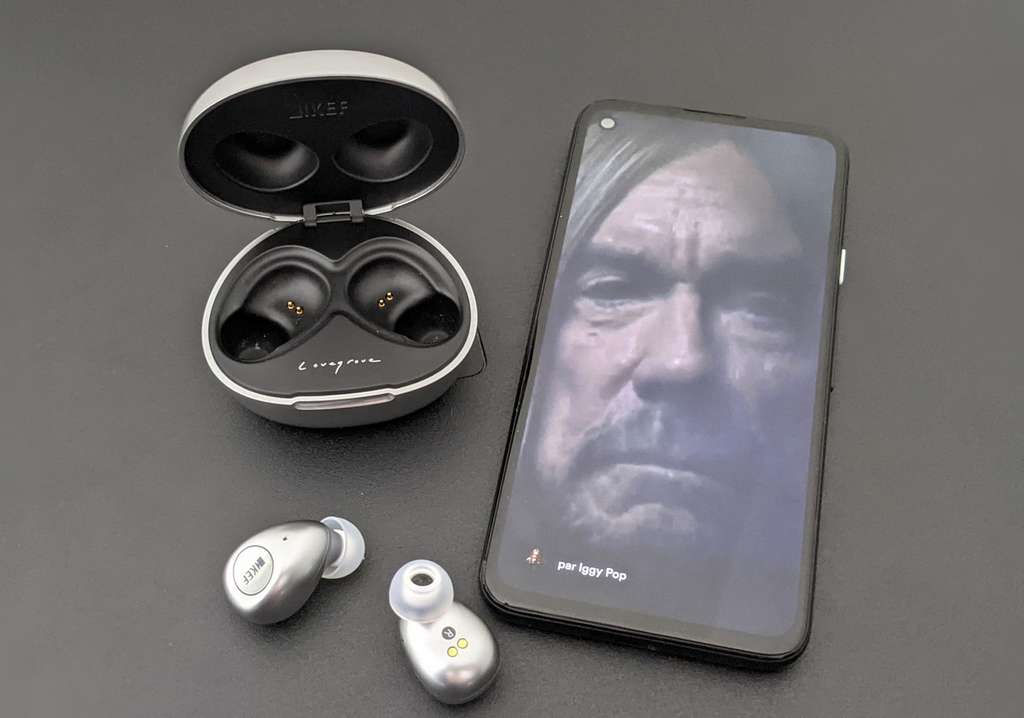 Double-edged simplicity
Kef has opted for direct and super simple handling of the Mu3. We take them out of their case, connect them to our smartphone via Bluetooth, and let's go. No application to install, nor sound calibration procedure. Very appreciable efficiency. But, to keep it simple, Kef has unfortunately slipped towards an approach that leaves an impression of unfinished business. There is no port detection to interrupt and resume playback as soon as the headphones are removed and put back on. Also for absent subscribers, the multipoint connection allows simultaneous connection to several devices (as the Jabra Elite 85t and 75t do ), which is practical for using the headphones on your computer and being able to take a call on your smartphone.
Impossible to customize the operation of the control buttons, to manage the active noise reduction or even to touch the audio settings thanks to an equalizer. All this is not essential, but it is a possibility that should exist on headphones at 230 euros. We can bet that Kef will seek to fill some of these gaps with future software updates.
A shy noise reduction but an exemplary autonomy and connection
The Mu3 offers active noise reduction (RBA) and transparency or "ambient" mode that you activate with a quick press on the button on the left earphone. The RBA produces a certain attenuating effect, but it does not create a listening bubble as effective as that of the Bose QC Earbuds, which are benchmarks in this field. The transparency mode is unnatural and we prefer to remove the headphones when someone is talking to us. A mixed impression that we find on the quality of hands-free calls, especially outside.
On the other hand, the Mu3 impressed us on two key points: the quality of their wireless connection and their autonomy. The Bluetooth range goes well beyond 10 meters if there are no obstacles between you and the phone. It is very appreciable when you are at home because you do not need to keep the mobile with you.
Kef announces nine hours of autonomy with the RBA and our use has often approached this figure. An impressive longevity which places the Mu3 at the top of the basket. The case offers an additional 15 hours of charging and can restore 1 hour of use in five minutes.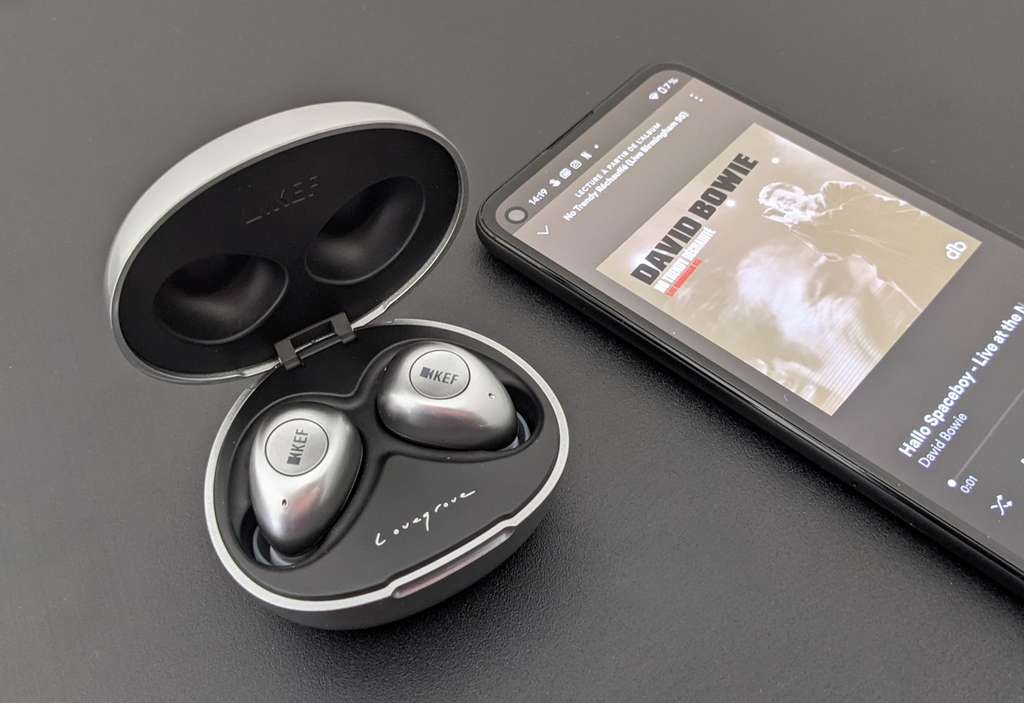 Futura's review
We can say that Kef has successfully entered the wireless earphone market with these Mu3s that do not just ape the competition with their singular style, their refined musicality and their exemplary autonomy. The manufacturer succeeded in the most difficult, which makes the functional shortcomings that we have pointed out all the more regrettable. Still, part of the reproaches that we address to the Mu3s are likely to fly away if Kef chooses to correct the situation with updates.
If, for you, only the audio quality counts for listening to your music then the Mu3 will make you happy. If, on the other hand, you consider that headphones at 230 euros must offer a range of settings and features as well as powerful noise reduction, then you are better to look to an alternative like the Elite 85t from Jabra.
WE love
Audiophile quality
Design moose and comfortable
Simple handling
Reliable, long-range Bluetooth connection
We don't like
No adjustment possible
Active noise reduction not present enough
The improved phone call quality
Read also:
Airpods Max: Apple have introduces new stunning design(Opens in a new browser tab)
Kokoon headphones help you sleep better by reducing stress(Opens in a new browser tab)
Looking for some cool noise canceling in small bluetooth headphones? Here's a small glimpse of original version(Opens in a new browser tab)
What else do you need from fully wireless headphones?Also if you like this article or having any suggestions feel free to tell us.