Anker Soundcore Liberty Air 2 Pro
The hero of the review is an example of how something very, very interesting can be hidden behind a rather cumbersome and unfamiliar name – Anker Soundcore Liberty Air 2 Pro
For example, inexpensive TWS headphones with active noise cancellation and the ability to analyze your hearing. And also add to this the wireless charging of the case and a bunch of nice tricks that make listening to music much easier.
Why Anker Soundcore Liberty Air 2 Pro?
Finding fancy yet completely wireless earbuds is tricky. In mid-priced models, they can easily save on case materials or noise cancellation. Models with a full "stuffing" of technologies will cost as a medium-sized smartphone.
Not the most pleasant situation, I agree. But there is a way out: for example, you should look for headphones not from smartphone manufacturers. After all, for this there are those companies that have specialized in sound for years. Anker is very well versed in sound quality. Although not promoted like many brands.
HOW MUCH IS IT COST AND WHERE TO BUY
Anker Soundcore Liberty Air 2 Pro Specifications
Type of emitters : dynamic, PureNote
Resistance : 16 ohm
Diaphragm of emitters : 11 mm
frequency range : 20 Hz – 20,000 Hz
Bluetooth version : 5.0, SBC, AAC
Battery life : 7 hours on a single charge, 26 hours with a case
Microphone : 6 pcs, active noise cancellation
Price : Find Out Current Price And Discount
Appearance

The decision not to use gloss was good for the headphones. Nice matte plastic and a neat silver insert make the headphones stand out well from others. While others strive for minimalism where it is not always needed, Anker does it in its own way.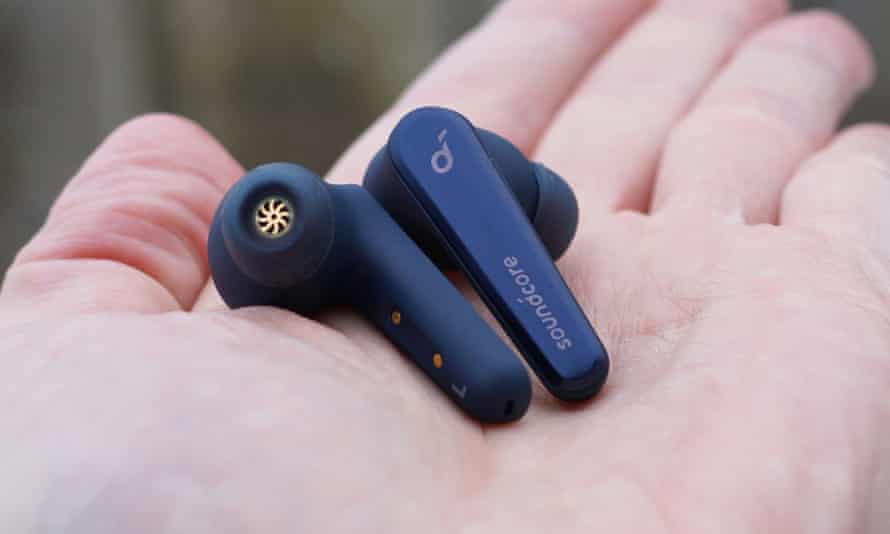 From the front, it may seem that the headphones are angular and will not be very comfortable to sit in your ears. However, on the reverse side, a triumph of streamlined forms awaits you. Why is there such a difference between the front and back? It's simple. The front gray bar is the touchpad that you need to control playback and volume. It seems that a flat surface is much more convenient for all these sensory manipulations than a cylindrical one.
The anatomical shape of the body made it possible not to resort to the use of additional silicone tips for fixing the earphone inside the auricle. So in the Liberty Air 2 Pro you only have to deal with the ear pads. By the way, there are as many as nine pairs of them in the kit. So, there will be no problems with the selection of the optimal size. This is a plus.
The ear pads themselves are not firmly attached to the headphones, but rather tightly. Should not fly at a random moment. Reliability of fastening here is achieved by the fact that the ear pads consist of two parts. The first is made of soft silicone and it is she who will be in contact with the ear canal. The second part is more rigid, more difficult to stretch. And all this allows it to more confidently hold on to the plastic.
The indication has not been removed anywhere, it is in place. To understand that the headphones are turned on and ready to use, you can use a barely noticeable LED, which is mounted directly under one of the microphones in the upper part of the case. And, despite its size, it is quite bright – the LED is visible even in sunny weather.
Case
Not every headphone case deserves a separate paragraph. But in this case, you cannot do without it.
During all two weeks of testing, the materials used caused me a tactile delight. To the touch, the plastic on the outside is somewhat similar to a soft-touch, but the soft-touch itself is, nevertheless, a little more velvety.
Immediately the texture is smooth. Although if you look at the surface of the case, you can get cognitive dissonance. This is due to the visual texture, which looks like the texture of the stone, which is slightly different from what your fingers feel. And no, not only the visual texture here resembles a stone. The neutral gray color and the shape of the case help with this.
The opening of the lid here does not happen like everyone else, but with the help of a shift. Yes, yes, that very slider design, painfully familiar to all of us from old (and not so) phones. Its movement is pleasant, the lid does not dangle and there is a practical benefit from this form factor – if the case falls, the headphones will remain inside.
For the price at which these headphones are sold, one might not expect support for the Qi standard. However, Anker did not forget about wireless charging, and now the case can be charged not only through the Type-C port, but also directly from your smartphone, if it supports reverse charging, of course.
The convenience of use
In the first paragraph, I already wrote that the anatomical shape of the body is comfortable for the ears. However, the convenience of wireless headphones isn't just about the way they fit in your ears. How the headphones are connected to your equipment also plays a big role here.
Alas, not all of them can do it quickly and, most importantly, always. And with the Soundcore Liberty Air 2 Pro, everything is simple: take out the headphones and they are immediately picked up by the last used device. You don't have to press anything at all. Got it out and use it.
The Soundcore application also helps in customizing the headphones. After installation, a full-fledged headphone control center, and not two buttons with an equalizer, as is the case with some famous competitors.
And if everything is clear with the setting of touch buttons, noise reduction modes and "skipping" of external sound (pressed and working), then you will have to spend a few minutes setting HearID. The fact is that in this mode the headphones will determine the sensitivity of your hearing in certain frequency ranges, after which they will create a preset with the most appropriate settings. You will be required to enter your age, and during testing, press the confirmation button when you start to hear a sound.
Noise suppression
In general, two microphones are enough for an active noise driver. But bigger is better, so Anker decided to use three microphones in one earphone at once, which gives more effective noise reduction in a variety of conditions.
The user can choose from three ready-made noise reduction modes:
Outdoors (reducing the sound level of the surrounding urban environment);
Indoors (elimination of voices and midrange noise in rooms);
Transport (low frequency noise reduction).

There is, of course, also a custom mode, but it is not easy to set up, so it is better to use something from the ready-made presets. The first two do their job well, but the most useful of them is the mode for use in transport.
The sounds of the Moscow subway are processed to a good level, leaving you with only a few high frequency sounds. If you go to school or work every morning by public transport, then these headphones should be your salvation from the rest of the world.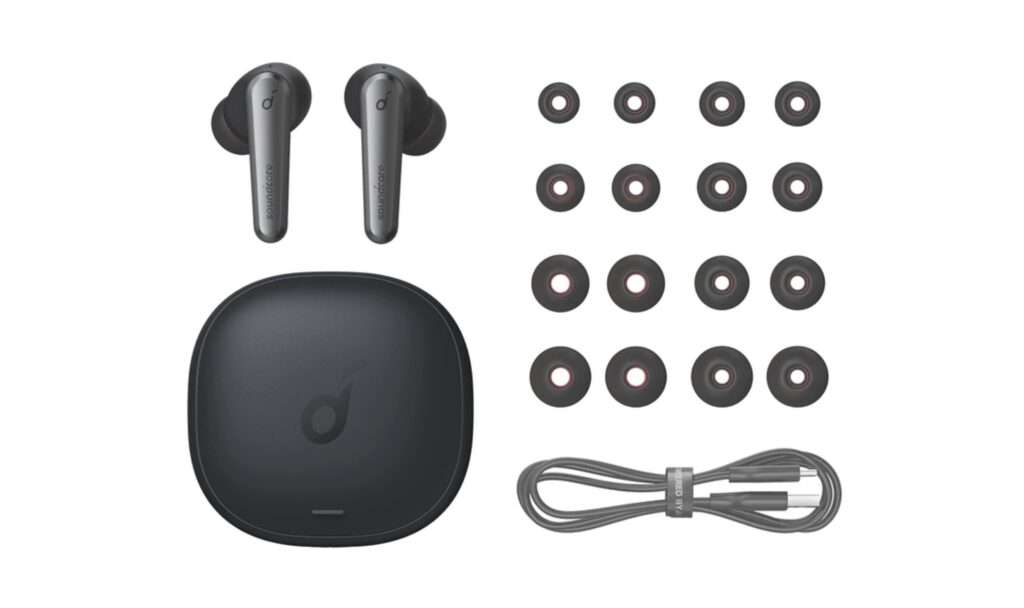 And as befits almost any TWS earbuds, the Soundcore Liberty Air 2 Pro can use their microphones for more than just noise cancellation and voice communications. All microphones in the same application can be switched to skip external sounds. A useful thing if you need to understand what is happening outside. After all, even passive noise isolation is at a good level here (provided that the ear cushions are correctly selected, of course).
Sound
The first thing that I involuntarily drew attention that- distinct bass and sub-bass sounds. Low frequencies do not turn into an incomprehensible mess and do not overlap the rest. The same goes for the rest of the frequencies. The sound is well detailed, even those musical parts that you simply will not hear in headphones of a class a little lower are clearly audible.
This is facilitated by not the simplest design of the headphones, although it would seem that they are ordinary TWS plugs. Above the drivers, there are as many as ten hardened nano-plates, which increase the frequency coverage and increase the clarity of the reproduced sounds.
Yes, someone would like to see support for LDAC and aptX codecs in these headphones, but for everyday use (videos on YouTube, music from streaming services), even the standard SBC codec will be enough. And do not forget that the headphones use Bluetooth 5.0 with not the smallest bandwidth.
Autonomy
From a single charge, the Soundcore Liberty Air 2 Pro can work for about seven to eight hours, despite the fact that all this time you will be using a rather energy-intensive noise reduction mode. This agrees with what the manufacturer promises, but in fact, you will rarely come across headphones discharged to zero, because they charge impressively quickly in the case.
It was like this: The main thing is to charge the case on time. And it's good that you often don't have to do this. A fully charged case can provide a total runtime of 26 hours. Good result for compact TWS headphones.
Conclusion
Anker has managed to make some of the best TWS headphones in its price segment. Yes, and finding competitors is decisively difficult when headphones are cheaper than the con flagship class, but in fact offer a full set of all kinds of functions that you will not find in more expensive models during the day.
HOW MUCH IS IT COST AND WHERE TO BUY
The active noise cancellation is at a good level, the volume reserve is large, and even 7 hours without a case is an excellent result. What else do you need from fully wireless headphones?Also if you like this article or having any suggestions feel free to tell us.