What do you do if your smartphone is lost or stolen? Offers you panic and get scared that.… where did I keep my phone or drop it?
And then you think like this…
– Have I forgotten my phone somewhere?
– Has anyone stolen my phone?
– what will happen now? And So much more.
And you are so scared as if an earthquake has occurred.
Do you know that in today's time many people do not even know that if the phone is stolen, what should be thought of or done. People think so, let the phone be stolen and will take a new phone. SIM card gone, no problem. Will take a new phone or a new sim. If you think so too, and if your phone is stolen in the future and you do the same, then keep in mind that you can get into a lot of bad problems.
So what should you do when your phone is stolen? Let me tell you step by step.
Don't Panic
Often people get panic when they lose their phone. And the things that should be remembered are forgotten due to panic. Please don't panic. Firstly, Think calmly, where did you go last time and used the phone.
After that you have to call on your phone. If the ring goes, then your phone is dropped somewhere. It will be nearby, so you can check the places you went.

And if your phone is not ringing, then someone has picked it up from where your phone might have fallen, that is, your phone has been stolen. Then there is no point in going to those places to find the phone…!
Block Sim Card
The second step you have to follow is to block the SIM card. After the phone is stolen, people forget to block their SIM. This is a big mistake. When you feel that your phone has been stolen or lost, then you have to first block your phone's SIM.
Why am I trying to block your phone's SIM, because your number is connected to many accounts. Your accounts such as Facebook, Twitter, Gmail and also credit card or debit card are all connected to these.
Because you all know that SIM is a very important thing for your phone. And if someone gets your SIM, then that person can misuse your SIM. So, the operator whose SIM you use, call your operator's customer care and get your number blocked first. This is one of the most important steps that you have to follow first, when your phone is stolen.
Find My Device
In the next step you have to do that, if you use Android Smartphone, then you have to use Find My Device or Android Device Manager. And if you use ios or iphone then you have to use Find My. Because of these, you can lock or erase your phone. Or you can also find the last location of your phone.
Now what do you have to do…?
If you are an Android user, then you just have to go to Google and search Find My Device. And if you use iPhone, you have to search icloud.
After searching, you have to login with the same id which was your phone login with id. You will get all the information about your phone. Such as your phone's location, and which network it is connected to.
If you have not locked your phone, then you can lock your phone here too. And you can erase data if you want.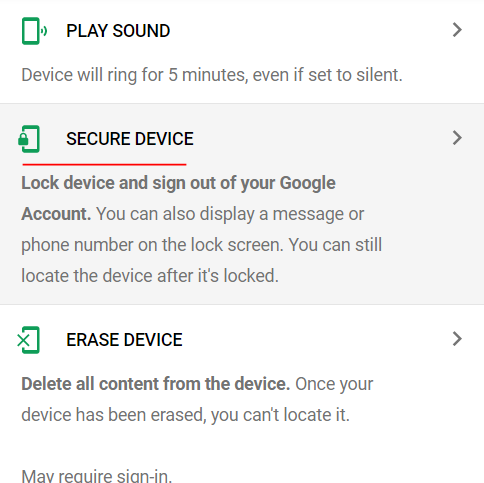 There is an option of Erase device under Secure Device so that you can format or erase your device. By doing this, you can know the location of your phone to a great extent or by knowing many more details.
Must Watch : https://stepphase.com/reviews/mobile-reviews/best-smartphones-under-15000-with-good-battery-backup/
Block IMEI Number
Now even after doing all this, you will not get your lost phone. So, understand that bro your phone is gone, you are not going to get it now.
But friend, it does not mean that you leave your lost phone like this. It is very important to block the phone's IMEI number. Otherwise your phone can be misused and you can get into a lot of trouble.
Yes, you have heard it right … You can get your phone's IMEI number blocked. By doing this, whoever stole your phone, they will not be able to use any type of SIM in your phone.
To do this, you have to follow some steps like You have to go to Google and search a site. Here you can get your phone's IMEI number blocked.
This is the site : https://ceir.gov.in/Home/index.jsp
This is a site of Department of Telecommunications.
Remember, before following this step, you have to do a police complaint. After doing that, you will get some details from the police, you will have to come to this site and fill it.
After doing all this, On coming to this site, you will see an option with Block Stolen / Lost Mobile, click on it. Where those people will ask for some details that you have to fill.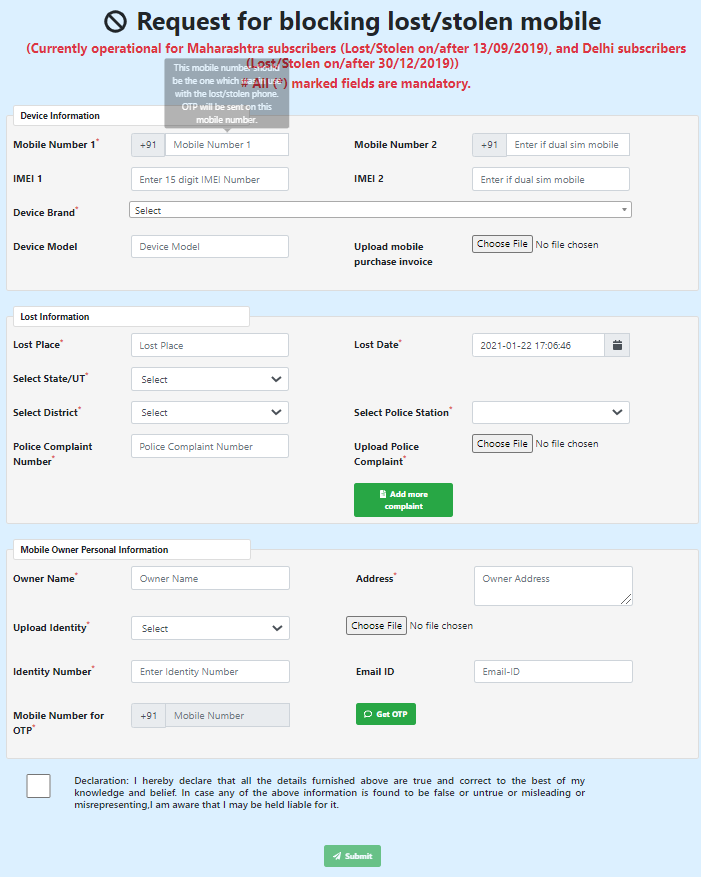 After filling all these details, all your details will be sent to the Department of Telecommunication. And they will block your phone's IMEI number. So that no one will be able to misuse your phone. After doing all this you can relax.
So these were the 5 important things that you have to do if you lose your phone. Friends, do tell me how you felt about this information ..! Did you find it interesting or helpful? Please tell us in the comments. Thank you…!