The prototype cement battery could offer high energy density at the scale of a building.
Cement production generates a lot of greenhouse gases. Its manufacturing process is indeed particularly polluting since it requires heating the raw material of the cement to very high temperatures. Widely used in the construction industry, cement is, therefore, a poor performer when it comes to the environment, but thanks to recent work by a team of researchers at Chalmers University, Sweden, that could change.
The researchers have indeed succeeded in developing a new prototype of a cement-based battery whose performance could be more interesting than previous concepts of this type. Because yes, the idea of ​​making some kind of intelligent cement is not new, but the concept never really took off due to its very limited performance. " The results of previous research on concrete-based batteries showed very poor performance. We understood that we had to think outside the box and find another way to produce the electrodes, "said Emma Zhang, one of the researchers.
The new prototype developed in the laboratory of the Swedish university consists of three layers. The first acts as a cathode and is made of cement which houses a carbon fiber mesh covered with nickel. The second layer is similar to the first, but serves as the anode. Its carbon fiber mesh is therefore covered with iron. Finally, the third layer is made of conventional cement and serves as a separator between the other two.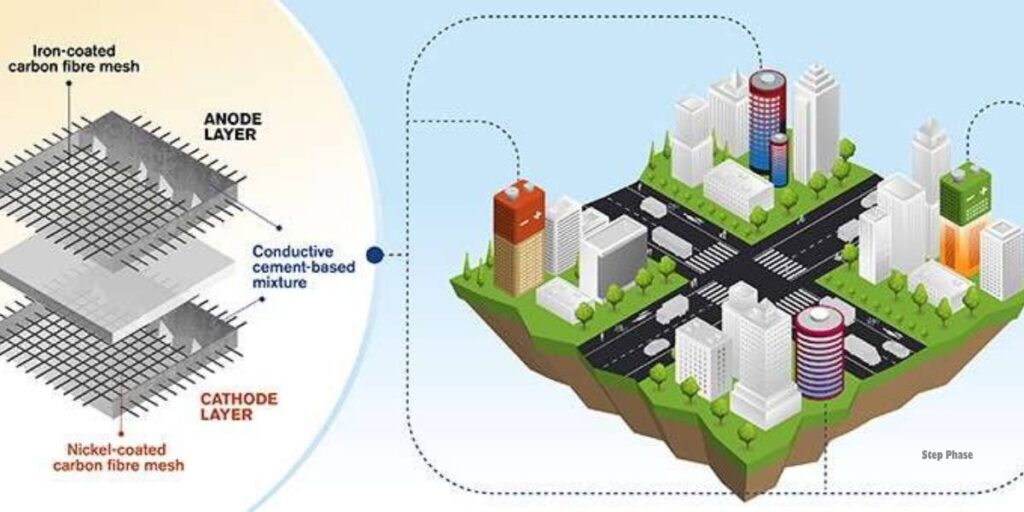 This structure has an average energy density of 7 w / h per m² which is far from impressive, but according to the researchers, this would however be 10 times higher than the results of previous cement batteries.
Compared to traditional batteries, the energy density of the prototype is very low, but this negative aspect is mitigated by the fact that buildings or roads require large volumes of cement and therefore battery. " It would be possible to integrate this electrode layer on any concrete surface. We are therefore talking about huge volumes , "argues Emma Zhang.
But while researcher Emma Zhang is particularly enthusiastic about this design, Chalmers University's cement battery will still face many challenges before it can actually be integrated into the infrastructure. The researchers have indeed succeeded in demonstrating the feasibility of the concept, but many obstacles still stand in its way. " Concrete buildings are generally designed to last 50 or even 100 years. The batteries should therefore have a similar lifespan, or be easy to replace and recycle. All of this poses a huge technical challenge, "concedes the researcher.
If they can find solutions to use this cement battery, it could also be used to power LEDs, but also provide 4G connection.
You may like:
We are here to hear from you
After all, you can contact us to let us know if we are missing something on our page. I hope you like and thank you for your visit