In times of global graphics card shortage, AMD is expanding the sale to the general public of its Ryzen 7 5700G and Ryzen 5 5600G, desktop processors with integrated Radeon Vega 8 graphics to allow you to play comfortably in Full HD. 
---
At Computex in Taipei, AMD made official the retail expansion of its Ryzen 7 5700G and Ryzen 5 5600G, a simple availability announcement that could help many gamers, however.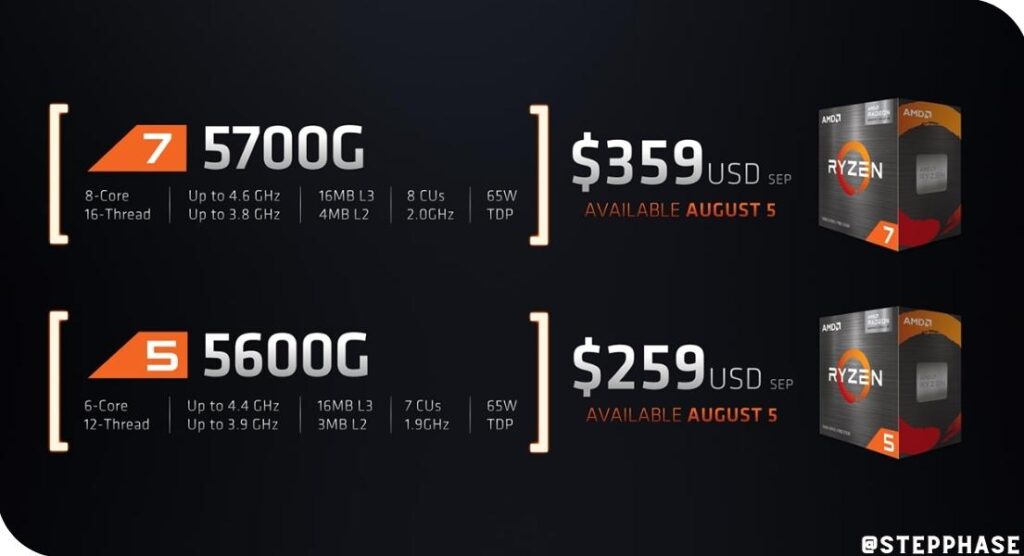 While they were initially intended only for manufacturers – OEMs in the jargon – these latest generation 65 W (Zen 3) chips will be purchasable by the general public from August.
In addition to their CPU performance, which should be very good (up to 8 cores / 16 tasks, up to 4.6 GHz, etc.), it is especially on the graphics side that these chips are interesting, because they integrate a Radeon Vega 6 or Vega 8 chip.
A well-known GPU, already integrated in mobile Ryzen , which offers the best graphics performance available of all desktop SoCs. AMD claims here up to x2.5 more graphics performance compared to its opponent.
Indeed, if the Xe 96 graphics chip allowed Intel to get back on its feet – and sometimes even the advantage! – on Radeons integrated into mobile chips, the situation is quite different for so-called "desktop" processors. A segment in which Intel has not yet integrated its high power version. Leaving, for now, the field open to AMD.
Without being able to reach incredible definitions or levels of detail, these little integrated GPUs are able to let you play all games at 1080p in levels of detail ranging from low to high, depending on the 3D engines.
With the graphics card shortage of unprecedented violence, AMD's new Ryzen 5000Gs seem like a godsend for homeowners with old machines in dire need of CPU and GPU power.
The AMD Ryzen 7 5700G and Ryzen 5 5600G should be available sometime next August. The prices are currently expressed in dollars excluding taxes: 359 dollars for the 5700G, 259 dollars for the 5600G.
Have you all enjoyed the Post!! Friends, your suggestions are always welcomed. Feel free and drop the message and also comment on the comment section, don't hesitate to Contact us
Have a good day! See you all soon.
It may interest you