Smartphone manufacturers are all trying to do away with the presence of the photo sensor and compete in ingenuity to integrate it directly into the screen, the idea is not new but not quite developed. Except for Google which seems to have exploited the idea differently and which has just filed a patent for a photo sensor on the front under the screen.
Google has just filed a patent concerning the presence of a photo sensor placed, on the front, under the screen of the smartphone. If this technology is not new, it suffers from a still limited quality of shooting on the first models of its kind, Chinese, currently on the market. This patent could, however, be a game-changer. This patent, published by the World Intellectual Property Organization (WIPO) on May 6, 2021, is titled "Full Screen Display with Sub-Screen Camera". It evokes a camera placed under an Oled screen (smartphone, tablet, or other).
Having a photo sensor on the front under the smartphone screen is not a new idea. This technological feat has already been achieved by several Chinese manufacturers and some models have even been marketed in 2020. Google however stands out from the competition here.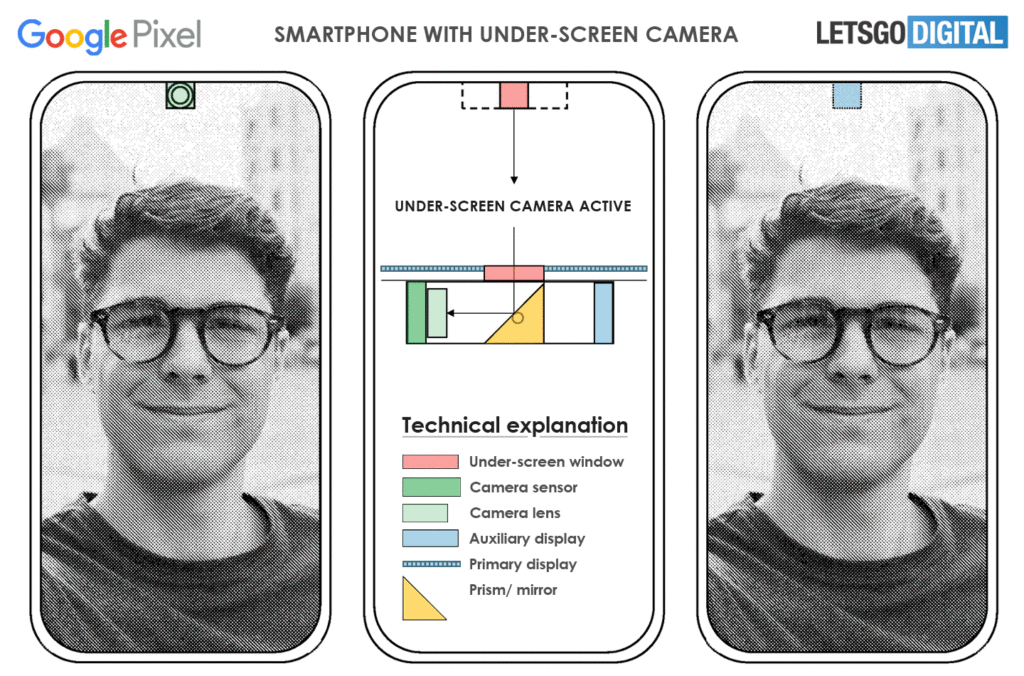 Integrated into the next Pixel 7?
Through this patent, we see that Google has decided to install its sensor under a sort of small window, itself placed under the main screen and therefore undetectable to the naked eye. In fact, it opens and closes in order to let the light pass or not depending on whether the camera is activated or not. This is done through a small prism with a reflecting surface.
The Google Pixel 7, expected at the end of 2022, could be the first terminal of the brand to integrate this technology according to several American media, even if Google has absolutely not confirmed this rumor. At the end of 2021, the American giant could present a foldable screen smartphone.
In 2020, the Chinese ZTE was the first, with the Axon 20, to release a model with a photo sensor placed under the screen of the smartphone. Placing the camera directly under the screen obviously saves space and removes all traces of a notch, whatever its shape. However, this very ambitious technology is not yet fully developed, the sensor does not have enough light to offer images of the same quality as usual. This is precisely what Google wants to succeed in correcting.
Have you all enjoyed the Post!! Friends, your suggestions are always welcomed. Feel free and drop the message and also comment on the comment section, don't hesitate to Contact us
Have a good day! See you all soon.
It may interest you