Qualcomm launched Snapdragon 888. Unfortunately, the event is virtual but the snapdragon 888 is here.
There's the New Architecture, Improvements in Camera, and some massive new Gaming upgrades.
Why is it called Snapdragon 888 not the Snapdragon 875?
Because the number 8 signifies infinity, success, or inner wisdom. In Chinese numerology 888 represents triple luck.
Snapdragon 888 Architecture
Snapdragon 888 is a 5-nanometer chipset and comes with the Kryo 680 cores that are clocked up to 2.84 GHz.
Now that's the same as the Snapdragon 865 clock speeds but these new cores are built on the Cortex X1 Architecture.
According to Qualcomm, the new processor is 25% better performance and 25% power efficient as compared to the Snapdragon 865.
Snapdragon 888 has four high-efficiency cortex A55 cores at 1.8 GHz
Three high-performance Cortex A78 cores at 2.4 GHz
One extreme performance Cortex X1 core at 2.84 GHz
That's important because the Cortex X1 is a code designed purely for performance and not to strike a balance between performance and power.
Camera Improvements
The new Spectra 580 ISP for imaging and this is the first time Qualcomm has a triple ISP that means Snapdragon 888 can let smartphones shoot 4K HDR videos from three cameras at the same time.
It will also let your phone smoothly switch between lenses when you zoom in and out while shooting video,
It also means you can capture photos from three different sensors at the same time. The new ISP also supports 10-bit color depth for photos, Which means your pictures can have a billion colors in them for even higher quality pictures.
And Qualcomm has new low light architecture as well that can apparently capture photos in as low as 0.1 lux lighting.
The snapdragon 888 can take burst photos in 120 FPS, Which means you will definitely get really sharp images even when your object (capturing some moving thing) is running around.
Spectra 580 ISP Specifications
200MP Photos
960FPS Slow-motion
Dolby Vision Video Recording
Multi-Frame Noise Reduction
Staggered HDR Sensor Support
4K Videos at 120FPS
10-bit HDR HEIF Photo Capture
and a lot more features. Obviously, a lot of this depends on what features OEM use in their phones. But we do know that Samsung and Xiaomi focus a lot on camera features in their flagships. So we'll see these features in action on the Mi 11 and the Galaxy S21 next year.
Gaming Improvements
For gamers too, the Snapdragon 888 seems to be bringing some mighty impressive features. While features like HDR Gaming, 144 FPS Support, and Updatable GPU Drivers have been around for a while.
Snapdragon 888 will support Variable Rate Shading as well, this is insane because it's a feature that's so far only available on PC Games and Consoles. But with the Snapdragon 888 it will make its way to Smartphone Games as well.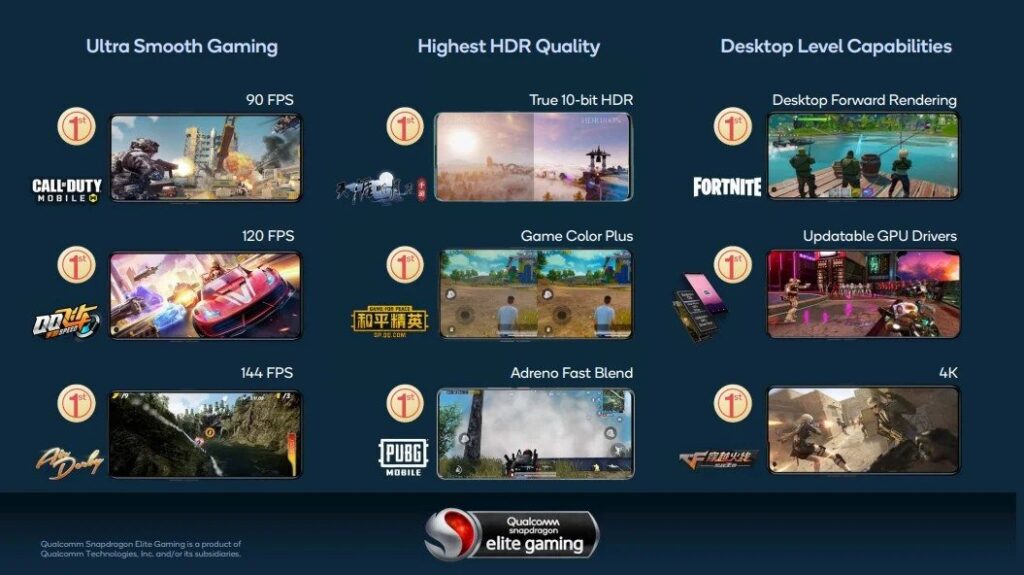 And Qualcomm claims this will improve rendering speeds by up to 30%. So Games should be able to run at even Higher Frame Rates for longer.
Also, the new Qualcomm Quick Touch feature which will prove really helpful in competitive FPS games. With Quick Touch, you will experience a 20% faster touch response on smartphone games. If you play PUBG mobile or Call of Duty you know these things can make a lot of difference in those tense moments.
There's also a new Anti-howl feature by the way which basically ensures that there's no audio feedback when you are playing multiplayer games in close proximity with the mic on. (Watch the video below)
This is something people who play team multiplayer games like Call of Duty mobile will really appreciate.
Of course, all of this is powered by the new Arduino 660 GPU which offers 35% faster rendering speeds and 20% higher power efficiency as compared to the Adreno 650 that was present in the snapdragon 865.
So where can you experience these features? Well, as far as my guess is concerned the Asus ROG Phone and all the other gaming phones in 2021 should make use of these gaming features.
Other Features and Improvements in Snapdragon 888
There are improvements in some other are as as well.
The new Hexagon 780 AI Engine brings AI to Gaming, Cameras, Voice Assistants, and more. With AI and Cameras, you get some exciting features including better Autofocus, Auto WhiteBalance, and Auto Exposure.
Qualcomm is actually saying that arc soft will use these features and will make your smartphone camera focus track and zoom in and out automatically when you are recording videos.
There are also improvements in terms of security the Snapdragon 888 comes with a new Hypervisor that brings isolated operating systems for each app.
So you can have Work Profiles, Personal Profiles, and even others in addition you can switch between them instantly and they will all remain completely separate from each other which is great for security and privacy.
5G Support
Lastly, there's obviously 5G support here as well the Snapdragon 888 is using a new Qualcomm X60 Modem with support for 5G (mmWave) millimeter-wave and sub 6GHz networks and download speeds up to 7.5 Gbps.
Along with that the processor also comes with the FastConnect 6900 platform with Bluetooth 5.2 and Wi-Fi 6E.
There's nothing really new here though the snapdragon 865 plus also had the fast connect 6900 platforms with-fi 6e and Bluetooth 5.2 so yeah those were the most impressive new features in the newly announced snapdragon 888.
The Mi 11 is going to be one of the first phones with a Snapdragon 888 processor.
Check out the complete specification on the product site. What do you think? are you excited about phones with the snapdragon 888? Let us know in the comment or contact us.