Nubia has just launched the new version of its gaming smartphone, the RedMagic 6. It has a screen with a 165-hertz refresh rate, the most powerful processor on the market, and a new cooling system. The manufacturer has also made some improvements to flagship functions such as touch triggers and the Game Space options panel.
Last year, we were able to test the Nubia RedMagic 5G gaming smartphone, a beast of power at a very reasonable price. The manufacturer has just launched its successor, the RedMagic 6, at almost the same price, or 599 euros for the base model. He finds himself facing two other gaming-oriented smartphones: the Asus Rog Phone 5 sold from 799 euros, and Lenovo Legion Phone Duel from 899 euros. We were able to take it in hand to see if it keeps all its promises.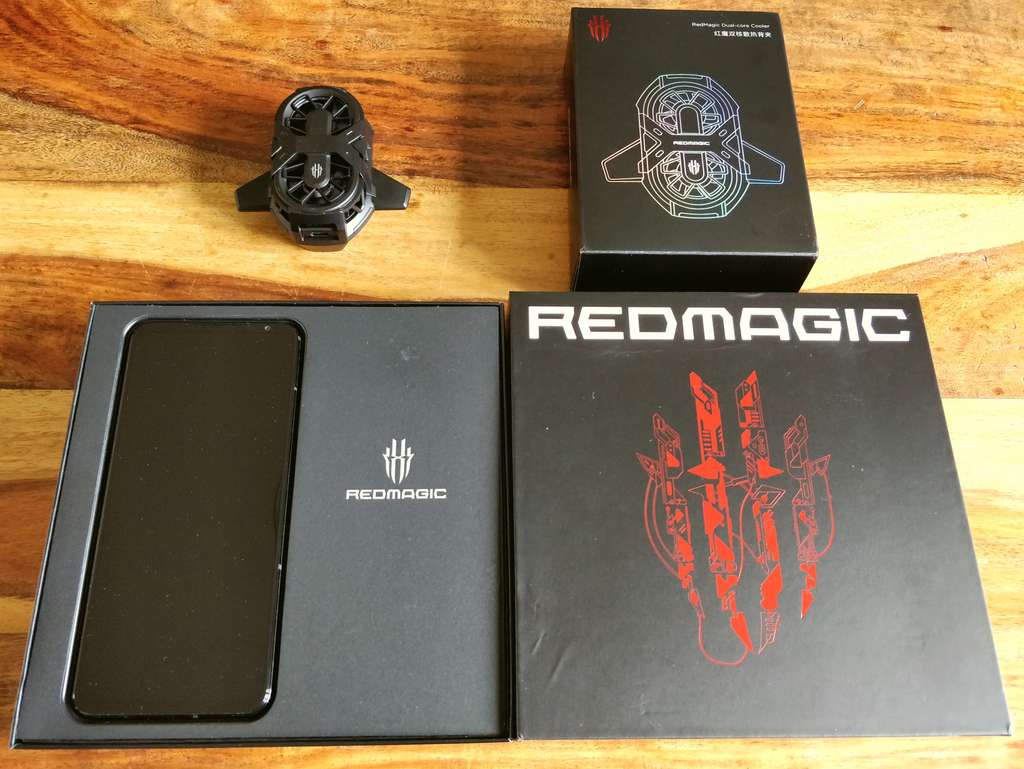 A device designed for gamers
Like its predecessor, the RedMagic 6 displays color from the start with gaming-style patterns on its shell. It is however a little less garish, being satisfied with a black variant  (Eclipse Black) for the basic version with a glass shell, while the Pro version is in silver aluminum (Moon Silver). Both handsets have red accents, including a bright red logo, and two RGB lines, one on each side, which light up in different colors depending on the use (games, media, incoming call …) and adjustable in the settings. Android settings.
Inside is the latest Snapdragon 888 SoC, which also brings support for 5G, Wi-Fi 6E, and Bluetooth 5.1. It is supported by 12 gigabytes of RAM (LPDDR5) or 16 GB for the Pro version, and 128 GB of storage (UFS 3.1) or 256 GB for the Pro version. It is powered by a 5.050 mAh battery which charges in 65 minutes with the supplied 30-watt block and supports 66-watt fast charging. Despite its large screen, it lasts a day in normal use and about three hours in-game.
An extraordinary screen
Aside from the raw power, one of the highlights of this smartphone is its huge 6.8-inch screen in 20: 9 aspect ratio, ideal for a very wide view on games, but also for viewing movies. It is bright enough to be able to play in direct sunlight. The refresh rate can be set to 60, 90, 120, and 165 hertz. The games are very smooth, at least the ones that are compatible with the high rates. We have seen this in the games suggested by the manufacturer, namely  Real Racing 3, Dead Trigger 2, Bullet Force, and  Vainglory. It is useless to change a smartphone just for 165 hertz if yours already goes up to 120 or 144 hertz, but it is more appreciable.
The smartphone is very responsive thanks to a touch sampling rate of 500 hertz when using with one finger, or 360 hertz with multiple fingers. Nubia reports a response time of just eight milliseconds. Another positive point, the fingerprint reader placed under the screen, sixth generation, proved to be fast and reliable.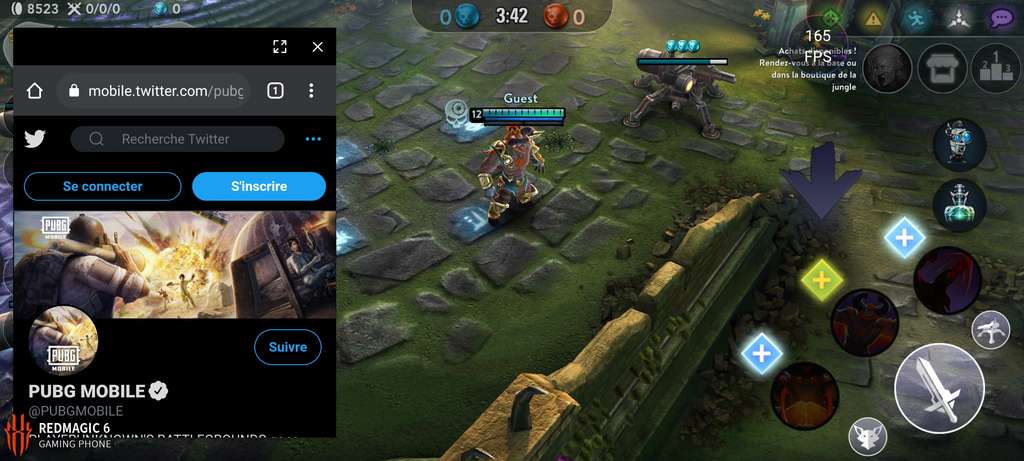 The RedMagic series stands out for its  Game Space, consisting of a game library as well as a side drawer accessible during games that includes many settings and functions. To access it, you must activate the red button on the edge. Last year it had given us some problems by launching when starting the smartphone without a way to cut it. Since then, Nubia has corrected the shooting and it is really useful. It allows to adjust the refresh rate, activate vibration "4D", "turbo" mode to launch the fan, and even open a window of the browser or messaging over the game.
Unfortunately, we discover here a major flaw for those who do not have a good command of English. Once again, the RedMagic OS overlay is not translated and therefore the Game Space and some parameters are in English. We contacted the builder who indicated that a better translation should arrive in the coming weeks.
Also, Nubia seems to have sent the first devices to testers with software not yet fully developed. However, after updating, we did not encounter any bugs. All apps worked without a hitch.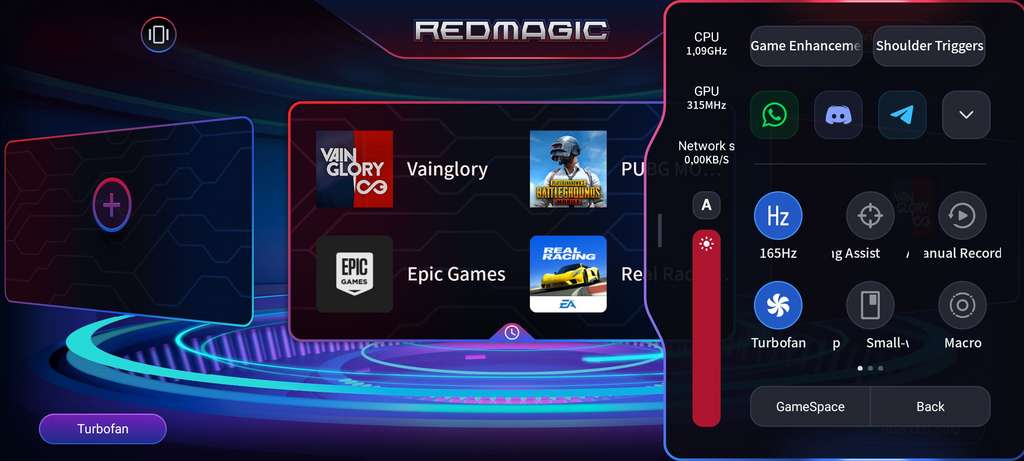 We find the two famous touch buttons on the edge, which were already present on the previous model, ideally placed to serve as triggers in games. They have a sampling rate of 400 hertz for a response time of 8.3 milliseconds. The Game Space allows them to be easily adjusted to activate any part of the screen and thus adapt to all games.
The RedMagic 6 is equipped with powerful stereo speakers that provide good rendering, as well as a headphone jack. The device also has three microphones, so you can talk in-game without having to pay attention to the placement of your hands.
A somewhat noisy cooling system
On the cooling side, Nubia boasts of using no less than seven techniques: graphite layers, liquid cooling, thermal gel, copper foil, an aluminum shell (at least for the Pro version), an air duct, and a fan. The latter is notable because it gets started by opening the  Game Space and using fast charging. At 20,000 rpm, it is somewhat audible. This is not catastrophic, and it is possible to cut it from the side drawer if the game does not heat the device too much.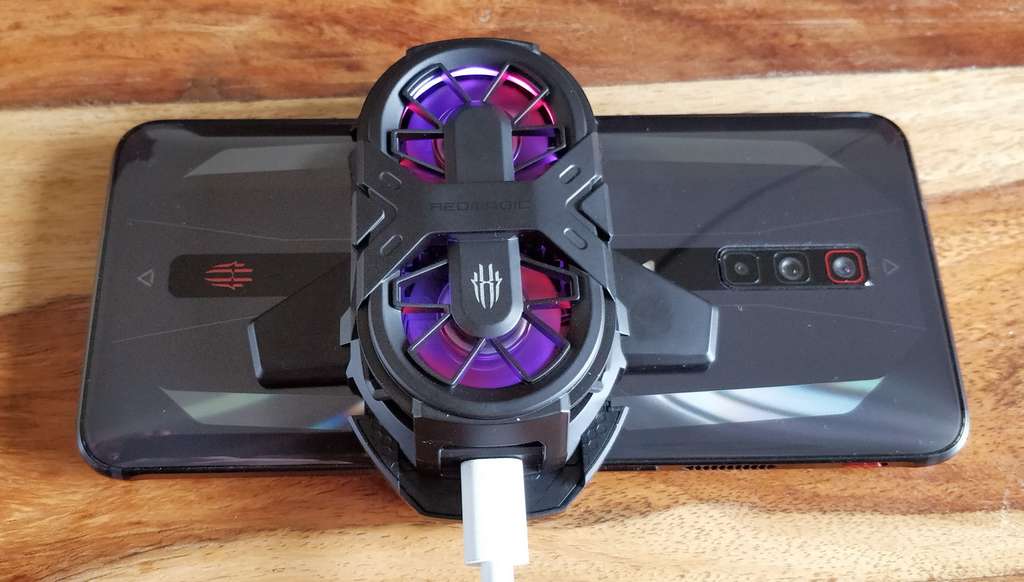 Another cooling solution is to use the Ice Dock external fan, sold separately at 43.90 euros. It clips to the back and incorporates two fans with adjustable RGB lights. It connects via Bluetooth to the device and is activated directly via a button for external devices in the  Game Space. Even if it gives a bulky appearance to the smartphone, placed in the middle, it does not interfere with use. It is less noisy than the fan built into the handset. However, its big drawback is that it requires an external power supply via  USB-C. It will therefore be necessary to be close to an outlet or have an external battery.
An average camera
Regarding the camera, this is the weak point of this smartphone. It is not bad, far from it. While all other specs are high-end, the tradeoff has been made on the camera which is simply midrange. It is moreover almost the same as on the RedMagic 5G: the main sensor of 64 megapixels, with the Samsung S5KGW3 sensor instead of the Sony IMX686, an ultra-wide angle of 8 megapixels and a macro sensor of 2 megapixels. . In front, there is an 8-megapixel sensor.
The device in no way competes with the flagship of other brands like Apple or Samsung, but it is more than enough for everyday use.
Availability and prices
The RedMagic 6 Nubia is available for sale from April 15 directly on its website Web. It is offered at 599 euros for the basic version (12 GB / 128 GB) and 699 euros for the Pro version (16 GB / 256 GB).
Future's review
We were rather won over last year by the RedMagic 5G, despite some flaws. This year, Nubia hits even harder and has managed to correct the most troublesome flaws. The Game Spaceactivates only on demand, and brings a lot of practical functions. Touch triggers are really useful in a lot of games and the screen looks amazing. Such power with all these functions for gamers under 600 euros, it's quite astonishing. The compromise is with the camera, which is still sufficient, and the noise of the fan involved. However, these are perfectly acceptable compromises for such a quality-price ratio. He thus obtains the maximum mark, provided that the overlay is effectively updated in French in the coming weeks.
WE love
Programmable touch keys
The refresh rate of 165 hertz
The play center
The ultra-responsive touchscreen
We don't like
The average camera
The noise of the fan
The RedMagic OS overlay in English
Features of the Nubia RedMagic 6
Screen: 6.8 inches (2,400 x 1,080 pixels ) with a refresh rate of up to 165 hertz
Camera: four rear sensors of 108, 12 megapixels (ultra wide-angle), 2 megapixels (macro), 2 megapixels (portrait / depth) and a 16 megapixel front camera
Processor: Qualcomm Snapdragon 888
Memory: 12 GB of RAM, 128 GB of storage / Pro version 16 GB of RAM, and 256 GB of storage
OS: Android 11, RedMagic OS 4.0 overlay
Fingerprint reader: under the screen
Battery: 5.050mAh, 66W fast charge (30W charger in the box)
Price: 599 euros or 699 euros for the Pro version
We are here to hear from you
After all, you can contact us to let us know if we are missing something on our page. I hope you like it and thank you for your visit.