Samsung Galaxy Z Fold3 5G

Hey, Samsung Users! Samsung has five folding devices under its belt and in its latest round, it has finished settling the nomenclature.
Two surnames for two well-differentiated formats with one outstanding feature in common, as shown by our review of the Samsung Galaxy Z Fold3 5G brand's book-type folding is like.
In our initial thoughts, it looked to have gained a level of maturity that we hadn't seen in the Samsung Galaxy Z Fold2 or the Samsung Galaxy Note 8 original, the Samsung Galaxy Fold.
It remains to be seen if the sensation continues to make our device for a while. So, we will tell you in-depth after a few weeks with it.
Samsung Galaxy Z Fold3 5G Specifications
Functions
Features
INNER SCREEN
7.6-inch Dynamic AMOLED 2X Infinity Flex Display QXGA + (2208 x 1768 dots), 120 Hz, 374 dpi, and S Pen support
EXTERIOR SCREEN
6.2-inch Dynamic AMOLED 2X (2268 x 832 dots), 120 Hz, 387 dpi
PROCESSOR
Snapdragon 888 5G with 8 cores, 64 bits and 5 nm lithography (2.84 GHz + 2.4 GHz + 1.8 GHz)
PRINCIPAL MEMORY
12 GB
STORAGE
256 or 512 GB UFS 3.1
FRONTAL CAMERA
10 megapixels, f / 2.2, FOV 80º and 1.22 µm photodiodes
INNER CHAMBER
4 megapixels, f / 1.8, FOV 80º and 2 µm photodiodes
REAR CAMERAS
-> Main: 12 megapixels, f / 1.8, 1.8 µm photodiodes, Dual Pixel AF, 83º FOV, and optical stabilization
-> Ultra wide-angle: 12 megapixels, f / 2.2, FOV 123º and 1.12 µm photodiodes
-> Telephoto lens: 12 megapixels, f / 2.4, PDAF, 1 µm photodiodes, Dual OIS, 45º FOV and 2x zoom
WIRELESS CONNECTIVITY
-> 5G NSA and SA, Sub6 / mmWave
-> LTE Enhanced 4X4 MIMO
OS
Android 11
SIM
2 x nano-SIM and 1 x eSIM
SOUND
-> Stereo speakers
-> Dolby Atmos
BATTERY
4,400 mAh
BIOMETRIC IDENTIFICATION
Side fingerprint sensor IPX8
facial recognition
DIMENSIONS
-> 67.1 x 158.2 x 16 mm (folded)
-> 128.1 x 158.2 x 6.4 mm (unfolded)
WEIGHT
271 g
COLORS
Phantom Black, Phantom Green, and Phantom Silver
PRICE
From 1,809 euros
Samsung Galaxy Z Fold3 5G Phone Specifications
Galaxy Z Fold3 5G Black+ No Cost EMI starts from ₹ 7944.38/ month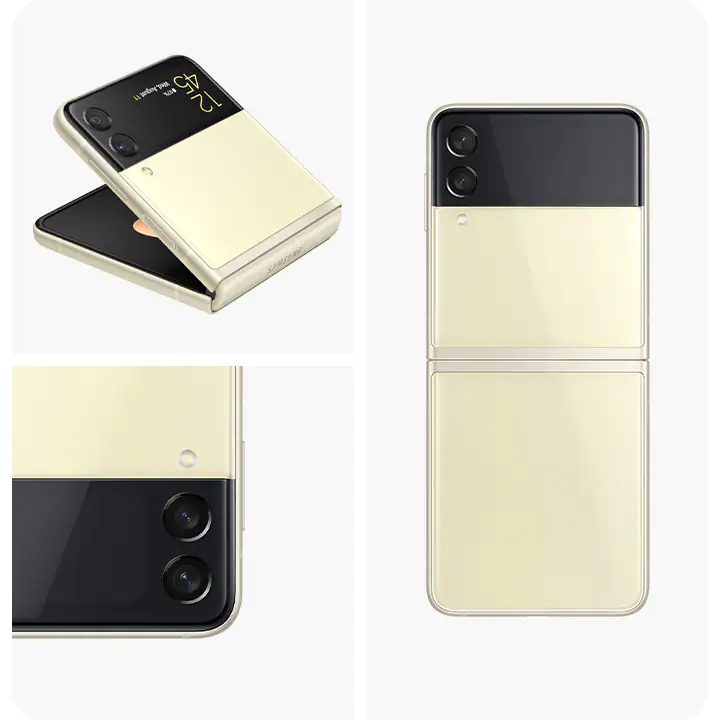 Galaxy Z Flip3 5G Cream + No Cost EMI starts from ₹ 4555.49/ month
Samsung Galaxy Z Fold3 5G Design: Little Noticeable Changes In A Familiar Format
Both the Samsung Galaxy Fold and the Samsung Galaxy Z Flip3 are kids of their parents: the Flip is a smartphone that folds in half like clamshells. While the Fold is a hybrid of a mobile and a small tablet that folds in half like a book.
Although the brand claims to have utilized an aluminum that is 10% stronger and 11 grams lighter than the Fold2, it does give off a touch of toughness, which we experienced with the last one. So, in concept, with that improvement at the resistance level, they've maintained something that was already positive.
Although it is twice as thick as the usual mobile phone, the touch is pleasing and it is comfortable to carry when folded. It does this by having a width of approximately 67 millimeters, compared to the Samsung Galaxy S21 Ultra's 75.6 millimeters. And recalling the Sony Xperia 1 III, a genuine champion of narrowness in the current high-end range, almost more in this dimension.
It is slightly more compact (noticeable) than its predecessor, but it does include a battery with a slightly lower capacity. As previously said, it is heavier than the heaviest regular smartphones but lighter than the Huawei Mate X2. Which is likely the most physically similar device and a more fair comparison in this aspect (295 grams).
Even if they were able to reduce the weight by a few grams, it is still a large phone, with 271 grams being too much for a single hand when unfolded. Although it is convenient to handle it like an open book. In the end, it is similar to when we use a little tablet for an extended amount of time and it becomes exhausted. When it's folded and we utilize the external screen, it's a little more manageable, though we'll miss the extra inches in some applications.
As a result of the hinge, the central fold continues to exist physically and tactilely. It is not annoying, and it does not greatly limit the experience. But it is visible, and there are no changes in the above. Showing that Samsung has not yet reached the smooth panel that many of us had imagined. And that it has not been achieved for the time yet. There will be no folding. It should be noted that it does not affect tactile sensitivity. Even though we notice it when we pass our finger over it.
The hinge does not appear to have undergone significant changes. And it is still protected from the elements by a glossy back cover (with the logo). And two upper and lower covers that appear to prevent particle entry both, when the phone is folded and when it is open, without exposing any holes.
Speaking of finishes, the Z Fold3's surface has been covered with an oil-repellent treatment to avoid greasy fingerprints. Which is achieved on the back with the cameras, but not so much on the edges (where something else shines). And even less on the back cover of the hinge, which is pretty dirty (especially in the black color).
The IPX8 water resistance certification is not easily observable. But it is achieved by treating the device as if it were swimming in the rain. We did not try to immerse it calmly as the specification suggests. But instead took advantage of the unusually rainy weather in our location. And utilize it without a cover, allowing everything to become wet without issue.
Samsung Galaxy Z Fold3 5G: Screen
On the outside, the Z Fold3 has a 6.2-inch non-flexible screen with a resolution of 2,268 x 832 pixels and a pixel density of 387 pixels. The refresh rate reaches 120 Hz, which is kept on the folding screen, as we will demonstrate.
It's a 7.6-inch Dynamic AMOLED 2X folding panel with QXGA + resolution, to be precise (2,208 x 1,768 pixels). This corresponds to 374 pixels per inch, including support for the S Pen and a maximum refresh rate of 120 fps.
Even though the screen does not have a competitive density for a high-end mobile. The resolution is more than enough to see the information well. There is no allegation of blurred content or a lack of sharpness, thus they provide an accurate experience. The contrast, especially on the external display, is also adequate.
Although we can change the screen settings to leave a more natural level of vibrancy. The panel is quite saturated out of the package. However, unlike the oversaturation option, we will not be able to change the white temperature on demand if we chose this.
Although the automatic brightness setting is a little high in low light situations, the maximum brightness is more than enough. The automatic setting to the minimum after reaching 5% battery life, which Samsung has maintained for years. And which is insufficient in many cases, is the total opposite (although It is always preferable to avoid reaching this percentage of battery life).
The ambient screen, often known as Always On, is a lengthy feature of our software, and it's now available for both panels. Though the settings we make will apply to both. There is nothing new here, being able to activate the display of music playback and also see the alarms and Bixby routines widgets.
Home Screen
The home screen offers numerous options, such as the ability to choose whether or not to use the app drawer. As well as the ability to pick what to appear differently in each panel. Or, on the other hand, to activate that changes are duplicated from one to the next. Each screen's wallpaper can be customized separately.
If the app permits it, you can see it in full-screen mode… And if not, it's also thanks to Samsung Labs' tricks (or forced maneuvers). We'll see a few of them in the software section, but it's also worth mentioning that In line with the screen percentage. We may pick whether to see an app in Fullscreen, 16: 9 (automatic), 4: 3 (wider), or 16: 9 (automatic).
Samsung Galaxy Z Fold3 5G: Camera
As we previously stated when discussing design, Samsung's insertion appears to be built on larger and lesser pixels. The diameter of this camouflaged camera is nearly the same as that of the front camera, although that taskbar is slightly higher in this case. In any case, the taskbars are still relatively small, and they don't take up much space on the screen. Falling just short of the Galaxy S's record (4.3 millimeters) but still at 5 millimeters for the external screen bar and 5.5 millimeters for the inner screen bar.
The pixels superimposed on the internal front camera are "tinted" based on the application. So, they can integrate better depending on the situation. It will happen most frequently in apps that we use with horizontal orientation and full screens, such as games or videos.
Even though the camera under the screen does not interfere with interaction (for example, when there is a touch button on it). Due to the proportions of the panel, there will continue to be a lot of content that leaves two large edges in full-screen black. Either top and bottom or to the sides (depending on the screen), especially streaming apps. In these circumstances, an 18: 9 panel is missing, yet it may be said that it "gained a screen" over its predecessor by not having a black bar covering the camera.
Main: 12-megapixel sensor (1.8-micron pixels), f/1.8 aperture lens, Dual Pixel AF, 83-degree field of vision, and optical stabilisation.
Ultra Wide Angle: 123o field of vision, 12 megapixel sensor (1.12 m pixels), f/2.2 aperture, and 12 megapixel sensor (1.12 m pixels).
Telephoto lens: With 12 megapixel (1 m pixels) sensor, f/2.4 aperture, PDAF, Dual OIS, 45o field of view, and 2x optical zoom.
Front: 10 megapixel sensor (1.22 million pixels), f/2.2 aperture, and 80o field of vision.
Inner front: 4 megapixel sensor (2 m pixels), f/1.8 aperture lens, and 80o field of view
Samsung Galaxy Z Fold3 5G: Performance
With the new Z Fold3, Samsung takes a break from including its processors. In a surprising turn of events, the company has chosen Qualcomm's Snapdragon 888, one of the most powerful processors currently available. This may or may not be a cause for celebration among users, given that when comparing performance in the S21 Ultra. The Qualcomm processor seemed to be superior to the Exynos in several benchmarks, but not in the photographic testing.
The folding's heart is also occupied by 12 GB of RAM and 256 or 512 GB of UFS 3.1 storage, depending on the model. With all of that, the Samsung Galaxy Z Fold3 is capable of handling any activity. Though it does heat up quickly (but not to dangerous levels), especially when using the camera (much more than playing games).
The Sound In Galaxy Z Fold3
As we predicted while discussing the gadget's use, this Samsung folding also inherits its predecessor's stereo sound system. This gives it bonus marks for being something that should be standard in any high-end and/or ambitious mobile device ( and this is not the case in all cases). Because it misses an audio minijack, you'll have to use USB Type-C or wireless headphones.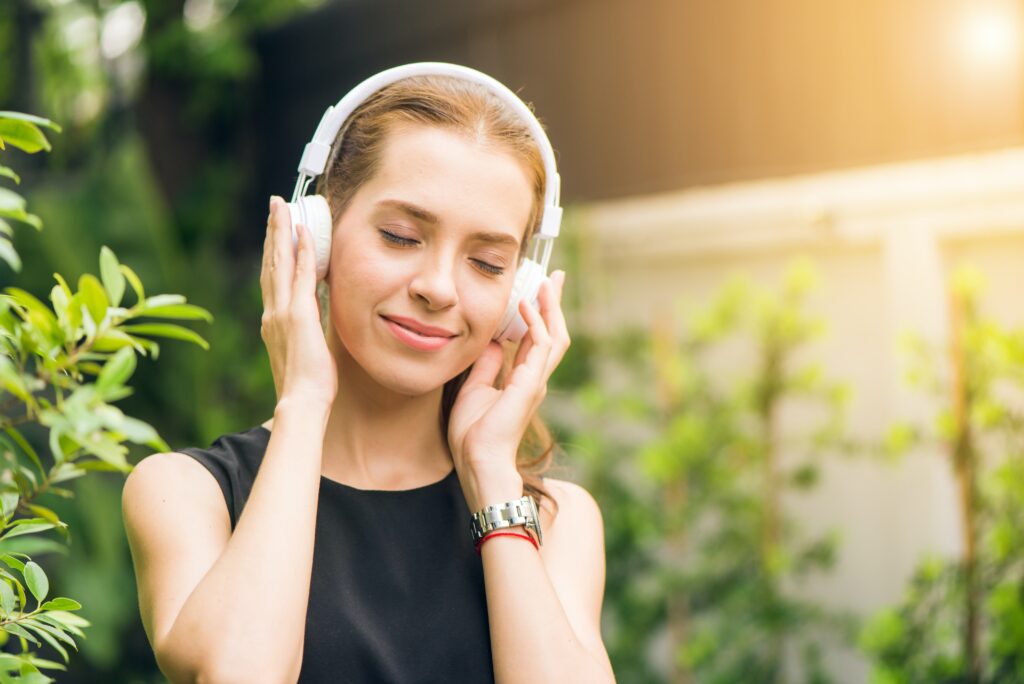 The sound from the speakers is overloaded with volume up to 113 decibels at the immediate output of the speaker at maximum, which translates into about 80 ambient decibels. This is not recommended either because of intensity. Or because of the loss of quality that you already experience at that level. Being much more convenient to leave it more or less at 80%, which gives about 70 ambient decibels, which is left over to have the stay well set.
The sound from the speakers is overloaded, with volume reaching 113 dB at the speaker's direct output at maximum volume, equivalent to around 80 ambient decibels. This is not suggested due to the intensity. Or the loss of quality that you will already experience at that level; it is much more convenient to leave it at approximately 80%, which gives about 70 ambient decibels, which is left over to have the stay well set.
The speaker settings are correct, and the bass performance is highlighted. If it weren't for the location, the sound would be fantastic in the vast majority of circumstances, whether it was talking, listening to music, or playing games.
Bottom Line
For the time being, we've defined the Samsung Galaxy Z Fold3 5G as robust, a little lighter, comfortable and dirty, and conservative.
The software and some of the hardware make the Z Fold3 feel like an experiment, even a whim. The Fold has taken us further away from that curiosity that caused us to spend five minutes just watching a panel fold and unfold in a device without stopping working. And while the Flip would seem practical and closer to what could become a minimally standard (for a few). The Flip has taken us further away from that curiosity that caused us to spend five minutes just watching a panel fold and unfold in a device without stopping working.
The build quality appears to be robust, the multimedia experience on the large screen is elegant, and the water resistance provides peace of mind (which was probably hard to come by on such a phone).
Still, confused? No problem you can go and check the other information on the official site Samsung regarding Samsung Galaxy Z Fold3 5G. And those who have made their mind to buy this amazing gadget can buy from here. Also if you want to save money, we have an amazing offer for you!!!! Yeah, you can buy this gadget from our referral code, and from this code, you will get up to an 8% discount on any Samsung device. Let us know in the comment section if you like this information and you can contact us if you have any queries. So, let's grab the opportunity and save the money!!!!!
Referral Code: REFXT8AANXDK
Happy shopping!!! Thank you!
Image source: Samsung