It is now a certainty: Windows 11 is well destined to replace Windows 10. For the occasion, Microsoft will hold a conference that promises to be epic on June 24th. In the meantime, a version of Windows 11 has already leaked to the web. The opportunity to take a quick tour of the owner and identify all the new features of Windows 11 ahead of time.
LATEST NEWS ON WINDOWS 11
While Microsoft had promised in 2015 that Windows 10 would be the ultimate version of its famous operating system, the Redmond giant has reversed its decision. After announcing in May 2021 that the next update of the system would be a real small revolution, we now know that behind this update is in fact … Windows 11 !
Because yes, it is now a certainty: Windows 11 is the name that Microsoft gives to its new operating system. The installation ISO file that recently leaked to the web proves it. By the way, note that Microsoft is also currently waging war on sites that share links to the same ISO file , the editor of Redmond seeing a very bad eye the fact that its OS is already circulating on the Web so that nothing has yet been formalized.
But back to what interests us here: we have listed and analyzed all the new features that we can expect in this edition of the OS. And we have tried to answer the various questions that such a change implies: when will Windows 11 be released? Windows 10 going to disappear? And above all, will the new OS be free like its predecessor for those who already have a license of the old version?
WHAT'S NEW IN WINDOWS 11?
According to Satya Nadella, the current CEO of Microsoft, the next Windows is shaping up to be a big event: "Soon we will be sharing one of the most important Windows updates of the last decade, in order to deliver greater economic opportunities for developers and creators. I have used it for the last few months and am incredibly happy with the next generation of Windows, "he said in May 2021.
The OS in question is of course Windows 11. Microsoft has not officially communicated on its release, we could remain for the moment at the stage of hypotheses concerning its content. If it is only that a version of Windows 11 has already leaked on the Web and that it allows getting a serious idea of ​​the novelties of the operating system.
A NEW START MENU ON THE AGENDA
If Microsoft has not completely revamped Windows 11 compared to Windows 10, some big changes are still to be noted. Let's start with the Start menu . As shown in the screenshot below, the Windows icon that calls up the Start menu is no longer located on the left end of the Taskbar, but in its center. When you click on it, you immediately notice that the menu "floats" above the Windows icon, while in Windows 10, the menu was attached to it.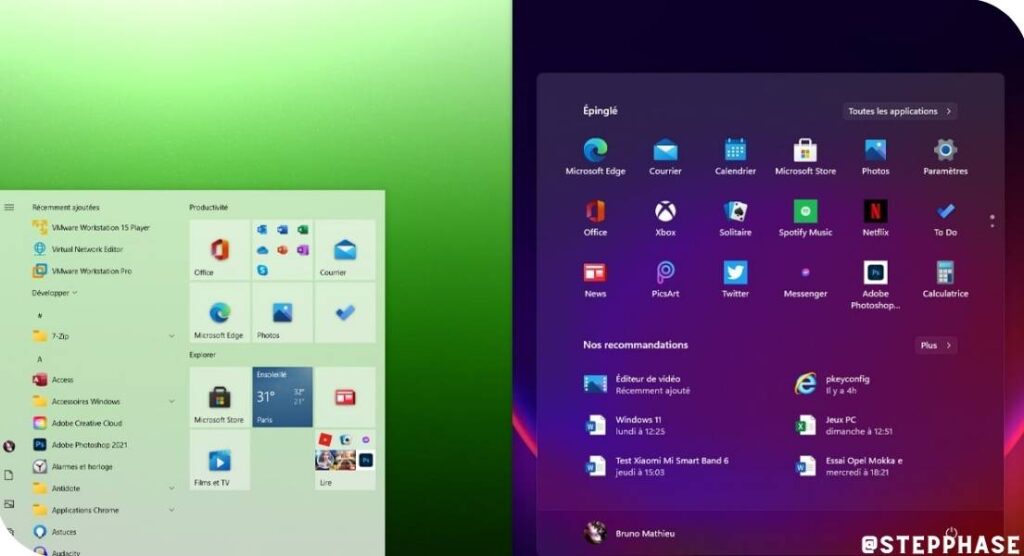 The icons present in the Start menu are presented in two very distinct categories: the first lists the shortcuts which are "pinned" to find them more quickly (the manipulation was already possible with Windows 10, but these icons were located in the right frame of the Start menu, while in Windows 11, they are located in the top frame). The second section deals with new applications installed or updated, as well as recently viewed files. These icons are located in a box entitled "Our recommendations".
Pinned icons (in the top frame, therefore) can be removed or moved with a simple right click. As for the shortcuts appearing in the "Our recommendations" list (in the bottom frame, therefore), it is possible to delete them, open their directory in File Explorer, launch them using the browser, etc.
THE TASKBAR IS ALSO GETTING A FACELIFT
Just as it was possible to customize the Windows 10 taskbar in every way, it is possible to completely customize that of Windows 11. But rather than resorting to menus and sub-menus as shown in the screenshot below. Below, Microsoft has decided to do away with the cascading menus and group everything together in a single option. When you click the Settings option on the taskbar , you open the Settings application (which was already the case with Windows 10). From then on, you can completely customize the taskbar.
This is not the only novelty of the taskbar. The search field has also disappeared , to make way for an icon (a magnifying glass). There, as in Windows 10, you have access to a window allowing you to search locally or on the Web, to consult the top applications, to launch a specific request in the folders, music, photos, videos, etc. .
Note in passing that the taskbar and its icons can now adopt three different heights , against two for Windows 10. Currently, this change is only possible by adding a value to the registry. For the moment, the Taskbar Settings function no longer allows you to change the size of the icons, but we can bet that Microsoft will soon reintroduce this option to take advantage of the 3 different sizes.
Another interesting novelty: the News and Fields of Interest function , integrated in build 21H1 of Windows 10, is now in the form of a Widget . As a result, Windows 10 no longer constantly displays the temperature on the icon in question. On the other hand, rather than being displayed in a small frame located on the right of the screen, the centers of interest, the sports results, the stock price and the weather are now displayed in a window to the left of the screen. This takes up half the screen and is much more visible (and readable) than the somewhat ridiculous frame, located at the bottom right of Windows 10. Note that the simple fact that Microsoft calls this section "Widgets "Suggests that
WINDOWS AND ICONS CHANGE THEIR LOOK
When you launch Windows 11 for the first time, you can't help but notice some major interface changes. All windows now have rounded edges. And it doesn't matter whether it's Explorer windows, Settings windows, the News & Interests Widget, or the many apps you may need to install: rounded edges are a must.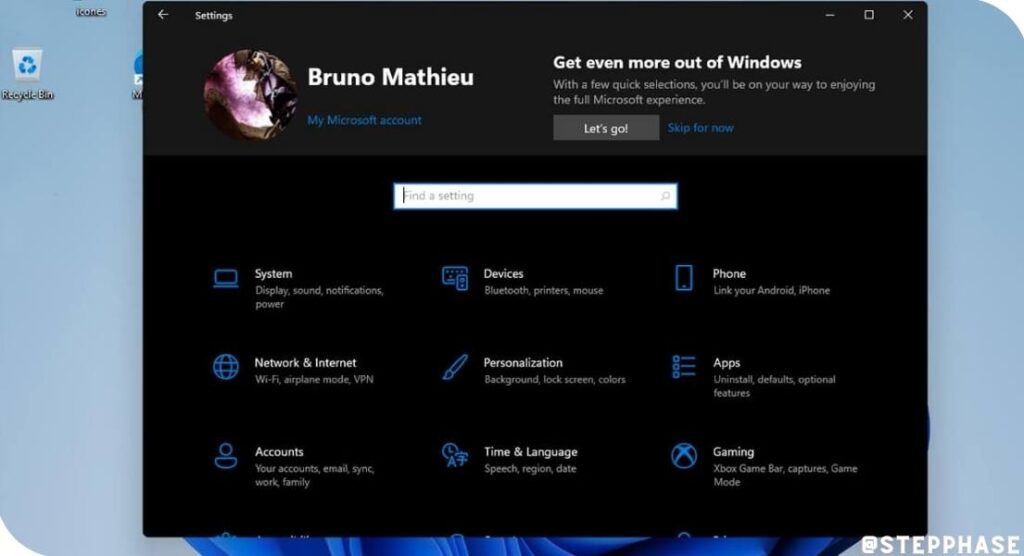 The icons Windows benefit from a helping youth. We had already been able to get a glimpse of it through a preview of Windows 10, it is now in effect for Windows 11. File Explorer thus benefits from new icons, as shown in the screenshot above.
WINDOWS CAN NOW BE POSITIONED MORE EASILY
Until now, when you wanted to rearrange all windows on the Windows desktop, you had to right-click on the taskbar, and select one of the following options: Cascade, Show stacked windows, Show side-by-side windows, or View Desktop. This era is now over since, as mentioned above, the taskbar has only one option dedicated to its own settings.
But then, are the window manager and its display possibilities under Windows 11? Microsoft decided to put them directly in the applications and Explorer windows, and that's pretty smart. By leaving the small cursor on the icon which opens a window on the whole screen, a new menu of icons appears . Thanks to it, we can now place a window on the left, on the right, rather downwards, rather downwards, in a "frame" of 4 windows… In short, more possibilities are offered to you as regards the arrangement of the windows. A little detail that changes your life.
SKYPE DISAPPEARS IN FAVOR OF MICROSOFT TEAMS
It's a small surprise: the first build available does not preinstall Skype and does away with all its integrations normally present in Windows 10. Everything indicates that Windows 11 is preparing to replace Skype with Microsoft Teams. Skype wouldn't go away completely, since it would still be possible to install it through the Microsoft Store or as an x86 app. But that would be a major change for this software that Microsoft acquired ten years ago and has always pushed to the fore, not hesitating to abandon MSN, its old messaging system.
WINDOWS 11 WOULD BE FASTER THAN WINDOWS 10
According to the first benchmarks, Windows 11 is already faster than Windows 10 and should see its performance improve with the updates. Obviously, for the moment, these results should be taken with all the necessary precautions, since the new version of the operating system has not been finalized.
Nevertheless, if we are to believe the first tests carried out using software like Geekbench 5 or Cinebech R23, Windows 11 would be 2 to 8% faster than its predecessor . A figure which can reach 10% when we test the capabilities of the OS using the Chrome 91 browser. Microsoft would therefore have succeeded in optimizing its OS, without fundamentally changing the core. Note that the tests were performed on a Lakefield Core i7-L16G7 processor. From our side, we are waiting for the next generation of CPU and a definitive edition of Windows 11 to issue a final opinion on their relevance.
WHAT ARE THE FEATURES OF WINDOWS 11 THAT ARE STILL MISSING?
At the moment, the version of Windows 11 that Microsoft is working on is not yet finalized. The publisher has mainly relied on an "aesthetic" update of the OS, but new, deeper features should also emerge. For example, we are talking about full support for Android applications , without going through a third-party emulator like BlueStacks.
Another expected novelty of Windows 11: upon installation, Windows 11 offers you to "personalize your device" according to your uses (games, multimedia, creativity, work, etc.). If this function is present in the current beta of the OS, its effects are not visible for the moment. Again, we will have to wait for Microsoft to make an official presentation to find out more.
WHEN IS WINDOWS 11 RELEASED?
The new version of Windows 11 will be released in its final edition in 2021, that's for sure. The current version that has leaked seems finalized, or almost. Granted, it's still a bit early to judge, but we haven't encountered any major bugs with it. It may well be that Microsoft will release a finalized build during the summer. And that the most impatient rest assured: the Redmond giant obviously wants to broadcast a preview at the end of the conference on June 24, 2021 .
WHAT ARE THE DIFFERENT VERSIONS OF WINDOWS 11 AVAILABLE?
It is almost certain that Microsoft will apply its usual version program to Windows 11: home, professional and professional edition for work groups. This is also what the possibilities of installing Windows 11 from a USB key on a blank hard drive suggest.
On closer inspection, it also appears that Microsoft is planning to release an "SE" version of Windows 11. The difference with other versions of the OS? At first glance, nothing differentiates it from the classic version of the OS, except that it does not allow you to use Windows 11 locally. As a result, this may be an edition for online use only. We would therefore have to do with a version of Windows 11 developed for the Cloud, similar to what we find on the side of Google with Chrome OS.
WINDOWS 10 GOING TO DISAPPEAR?
Here again, it is still a little early to judge the future of Windows 10 as long as no official announcement has been made. On the other hand, if we stick to Microsoft's usual policy regarding new versions of Windows, Windows 10 is not going to go away anytime soon. Unless there is a final turnaround, the OS still has many long and beautiful years ahead of it. Windows XP for example has been maintained for almost 13 years, while Windows 7 has lasted for 11 years. Even the much-maligned Vista will have lived almost 11 years too.
Windows 10 arrived in its 6 th year, it is clear that its life cycle is not going to end anytime soon and he still has a few years to live, if that via updates security. This is what the operating system's software support page suggests. Microsoft is indeed talking about a deadline of October 14, 2025 for Windows 10 Home, Windows 10 Professional, Windows 10 Professional Education and Windows 10 Professional for Workstations.
HOW MUCH WILL WINDOWS 11 COST?
When Windows 10 was released in 2015, Microsoft "offered" all Windows 7 and Windows 8 users a license for its new operating system. This offer was only supposed to last for a year, but six later it is still active. We can reasonably hope that the editor of Redmond will repeat the operation with Windows 11: any holder of a license of Windows 7, 8.1, or Windows 10 should be entitled to a free migration to Windows 11.
We tested the operation which consists in using a serial number sometimes coming from Windows 7, sometimes from Windows 10. The registration of the license worked perfectly. As for the newcomers, they will probably have to put their hands in their pockets, knowing that at present, a full Windows 10 license costs between 145 and 259 euros depending on the version . It is likely that a Windows 11 license will show up at similar prices.
Finally, the last avenue to consider: the acquisition of a Windows subscription. A formula that would take on its full meaning with a Windows in the Cloud, the release of which also seems imminent. Recall that Microsoft already offers Office 365 in this format since 2011. If Windows 11 were to be declined in a remote version on the Cloud, it could well be that Microsoft launches such an offer.
Have you all enjoyed the Post!! Friends, your suggestions are always welcomed. Feel free and drop the message and also comment on the comment section, don't hesitate to Contact us
Have a good day! See you all soon.
It may interest you