What is UI Design
Firstly, in UI/UX Design, User Interface or UI is an interface through which machines and software such as computers, home appliances, mobile devices and other electronic devices can be self-designed.
The main purpose of the UI/UX Design is to maximize usability and user experience as well as to improve the design.
For example, if you want to change the design of your personal computer or mobile, you can do this with the help of user interface ie UI/UX Design.
A good user interface design helps to finish the work without any hassle. For this you do not even need to learn any special programming language.
Graphic design and typography are used to improve a UI design. Both these software ensure that how a user interacts with the computer and what commands are given to the computer.
The design process in the UI should become a system that not only balances technical functionality and visual elements, but is also useful and adaptable to users.
Use of UI/UX Design
The UI design is being used in computer systems, from cars to commercial aircraft, and many other areas.
In all these areas, people make very large designs very easily using very few computers.
The UI is mainly used to improve the design of devices in any field.
If we go to this definition of UI, we can use it in almost every field.
3D Elements in UI/UX Design
3D Elements are receiving great love..! This integration in the UI will be the hottest trend of 2021. 3D is also being widely used in full screen animations as the main key visuals.
Among the hot UI/UX Design trends of the year, 3D graphics are rocketing on top of creative experiments. No doubt, integration of various 3D graphics into mobile and web interfaces is quite a challenge that requires specific skills and artistic eye to be crafted well. What's more, it's time-consuming. However, the benefits are really worth considering:
it is definitely eye-catching and users will never pass by.
The 3D renders often look photorealistic, which is a big advantage for user interface design: graphics of that kind may save the game in cases when photo content you need is impossible to get or highly expensive.
If you need to set futuristic vibes, nothing can help better.
Glassmorphism in UI/UX Design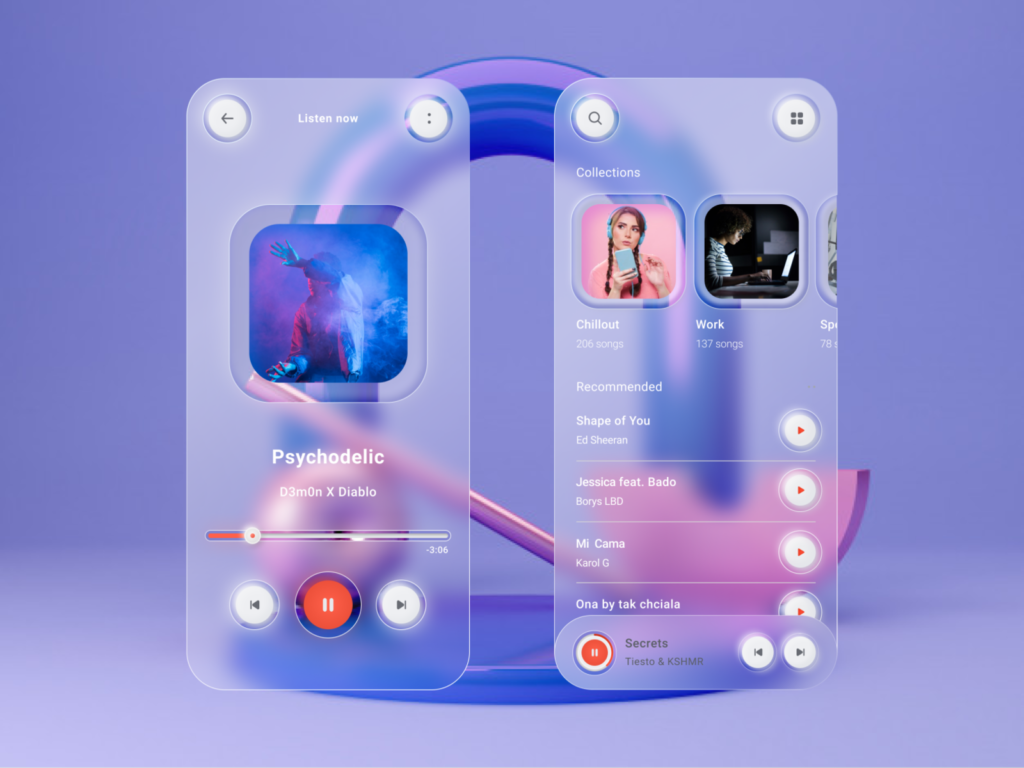 Like Neuomorphism last year, Glassmorphism is the new craze this year. It is basically the "through the glass" effect. The premise of this style isn't new in itself…! It has been used in Windows VISTA, IOS 7 before.
There is a new style on the block right now and it's growing in popularity. While Neumorphism is imitating an extruded, plastic surface (but still looking like one layer), this new trend goes a bit more vertical. Its most defining characteristics are:
Transparency (frosted-glass effect using a Background Blur)
Multi-layered approach with objects floating in space
Vivid colors to highlight blurred transparency
A subtle, light border on the translucent objects.
Dark Mode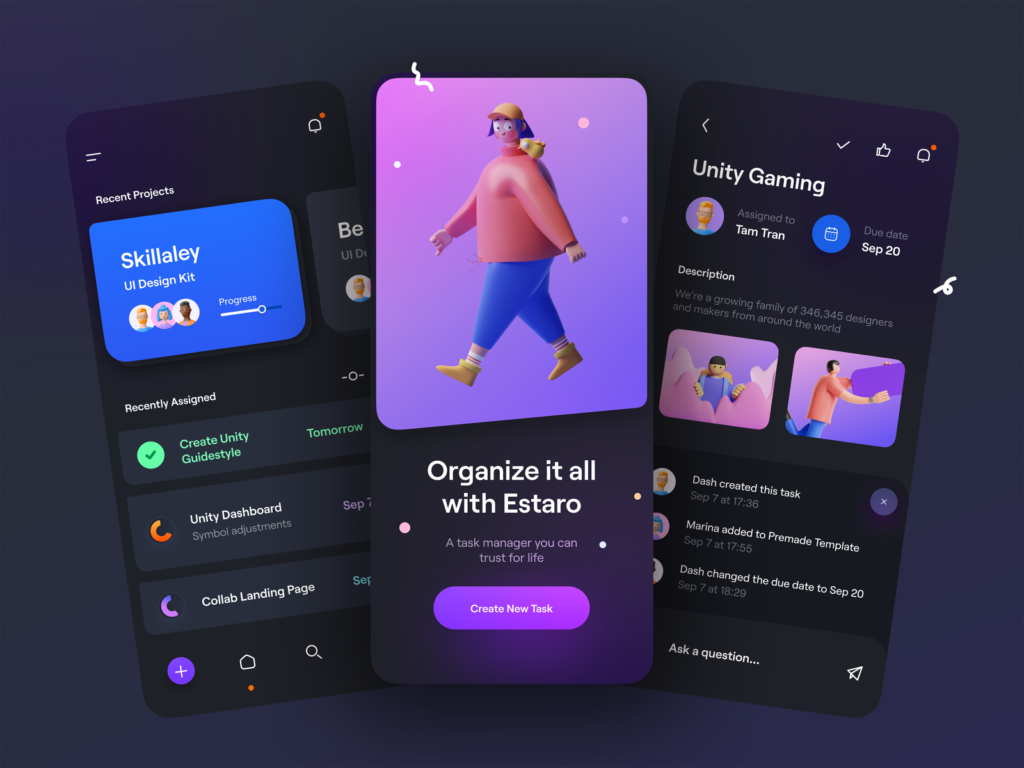 Dark mode will again be one of the hottest trends of 2021. Big Grands like Facebook, Instagram, Apple and Android offer Dark Mode as alternative themes in their Products. It looks modern, allows design elements to pop, and reduces eye strain.
Dark UI designs are seen far and wide, from mobile screens to massive TVs. A dark theme can express power, luxury, sophistication, and elegance. However, designing for dark UIs presents multiple challenges and won't meet expectations if implemented poorly. Before diving into the "dark side," designers should look before they leap.
Digital products with dark UIs—associated with power, elegance, and mystery—are a formidable trend. While it's often said that dark mode can reduce eye strain, there is no evidence that this is true. Under certain circumstances, it's also supposed to save battery life. Still, more often than not, dark themes are an aesthetic choice.
Colorless UI
The use of vivid and vibrant colors can be seen a lot in the UI in 2021. Colorless UO with thin lines and black and white(or subtle color) illustrations are quite popular too.
The combination of black and white offers the maximum contrast possible because they come from opposite ends of the color spectrum. Black and white websites are classical, strong and powerful, but most of all this color combination is the epitome of elegance. Black and white is a timeless combination, it always works and never goes out of fashion.
Bauhaus Style
The style of Bauhaus is commonly characterized as a combination of arts and crafts movement with modernism. Bauhaus' designs feature little ornamentation and a focus on balanced forms and abstract shapes.
Here's what stood out for the field of UX:
Simplicity — the constant need for reinterpretation, renegotiation, and defense of this foundational principle of accessible design.
Gesamtkunstwerk — making responsible use of our growing ability to design for all senses across many surfaces in digital product creation.
Staying connected to practice — finding ways of staying engaged in the creative process across levels and functions, e.g. via design sprints
Creative collaboration — deep empathy and partnership not just with our users but also with our co-creators, the engineers, managers, marketers
Personal bonds — the importance of making room for playful interactions and forming lasting bonds beyond 'professional networking'
Social good — not losing sight of our motivation to create products that benefit the people that use them, and society at large.
Colors on White Surface
Colors are the most important visual elements which can highlight your content and brand's style. But it should help the UI elements and surface to be easily distinguished from one another.
There are 3 important things about color that you should know: Hue, Value & Saturation.
Hue is the color in natural state. For example blue, green-yellow, yellow, red, etc. Without any variation of light and darkness.
In UI (User Interface) the value plays an important role, because when we use it well, we can get a good contrast and also different surfaces in our interface.
saturation is the intensity of the color, when we saturate a color, we have more intense and vivid color. When we desaturate color, we have a dull color, an example of this is when we completely desaturate a color, we have a gray color.
Animated illustration in UI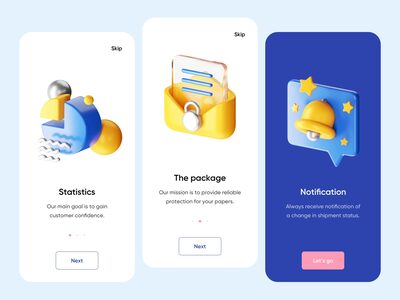 UI/UX Designers are incorporating more and more animated illustrations these days in UI. Animations captivate a user's emotions, help understand more complex procedures and concepts, and reflect a brand's personality.
Digital illustrations applied on websites, landing pages, mobile screens, and emails present the booming trend this year. Custom graphic design is also widely used for promo and explainer videos.
Moreover, we find animated illustrations in web and mobile interfaces: images in motion catch our attention and add life to the pages. Benefits of this approach are well-checked: digital artworks support the original and stylish look of the product, quickly transfer the needed message, and add emotional appeal.
Aesthetic Minimalism
The minimalist aesthetic focuses on the visual aspect of minimalism and expresses a clean and fresh style in design. You don't always need a fancy UI, or "wow effects" for your product to look absolutely astounding, there's nothing more aesthetically pleasing than a simple, minimal and readable UI/UX Design.
Main features of minimalism often mentioned by designers include:
Simplicity
Clarity
Expressive visual hierarchy
High attention to proportions and composition
Functionality of every element
Big amount of spare space
High attention ratio to core details
Typography as a significant design element
Eliminating non-functional decorative elements
Big/Bold Typography in UI/UX Design
Big/Bold and chaotic typography was hot in 2020 and it will continue to grow in 2021 also. Some websites/apps are entirely based on typography and result in very interesting.
Regardless of how or if the other design techniques are used, bold type is almost always present.
It's no surprise that big, bold lettering is often used in minimalist designs. It's the perfect contrast to the stark nature of the design and provides visual interest and helps get users into the content.
But what makes typography bold? It can be a number of things; the key to finding the perfect level of boldness is often to look at how much lettering contrasts with the rest of the design.
Further, Bold type is lettering that stands out from its surroundings and demands to be read. But it has to be an integral (and integrated) part of the overall aesthetic. Bold typography should have purpose and meaning.
Immersive Interface
Integrating functions and scenes into the design, users can generate more experience in the process of using the product. This can be seen a lot in 2021.
In Conclusion, this is the top 10 UI/UX Design trends that you should know. So by commenting us, you must tell that which trend you liked more.