Assassin's Creed Valhalla minimum System Requirements for PC
Processor (AMD / INTEL): Ryzen 3 1200 – 3.1 Ghz / i5-4460 – 3.2 Ghz
RAM: 8 GB (Dual-channel mode)
Video Card: AMD R9 380 – 4GB / GeForce GTX 960 4GB
Storage: 50 GB HDD (SSD Recommended)
Operating system: Windows 10 (64-bit only)
DirectX Version: DirectX 12
Additional note: Requires GPU with DirectX 12 (Feature Level 12_0) support
Assassin's Creed Valhalla System Requirements for 1080p at 30fps
Processor (AMD / INTEL): Ryzen 5 1600 – 3.2 Ghz / i7-4790 – 3.6 Ghz
RAM: 8 GB (Dual-channel mode)
Video Card: AMD RX 570 – 8GB / GeForce GTX 1060 – 6GB
Storage: SSD (50 GB)
Operating system: Windows 10 (64-bit only)
DirectX Version: DirectX 12
Additional note: Requires GPU with DirectX 12 (Feature Level 12_0) support
Assassin's Creed Valhalla System Requirements for 1080p at 60fps
Processor (AMD / INTEL): Ryzen 7 1700 – 3.0 Ghz / i7-6700 – 3.4 Ghz
RAM: 8 GB (Dual-channel mode)
Video Card: AMD Vega 64 – 8GB / GeForce GTX 1080- 8GB
Storage: SSD (50 GB)
Operating system: Windows 10 (64-bit only)
DirectX Version: DirectX 12
Additional note: Requires GPU with DirectX 12 (Feature Level 12_0) support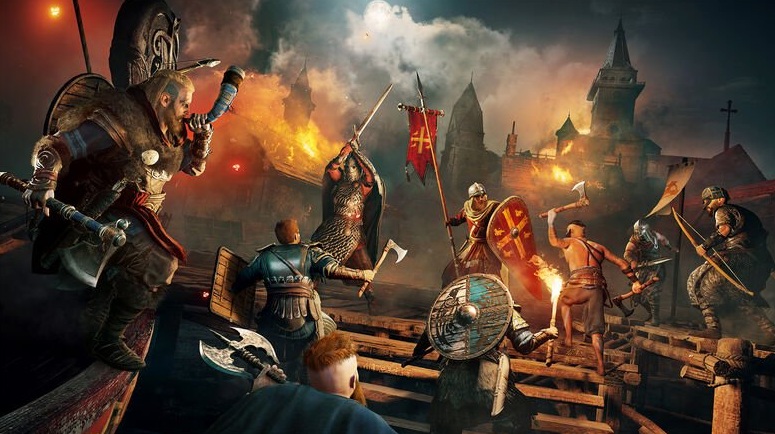 2K System Requirements for 1440p at 30fps
Processor (AMD / INTEL): Ryzen 7 2700X – 3.7 Ghz / i7 – 7700 – 3.6 Ghz
RAM: 16 GB (Dual-channel mode)
Video Card: AMD Vega 56 – 8GB / GeForce GTX 1070 – 8GB
Storage: SSD (50 GB)
Operating system: Windows 10 (64-bit only)
DirectX Version: DirectX 12
Additional note: Requires GPU with DirectX 12 (Feature Level 12_0) support
2K System Requirements for 1440p at 60fps
Processor (AMD / INTEL): Ryzen 5 3600X – 3.8 Ghz / i7 – 8700K – 3.7 Ghz
RAM: 16 GB (Dual-channel mode)
Video Card: AMD RX 5700XT – 8GB / GeForce RTX 2080 S – 8GB
Storage: SSD (50 GB)
Operating system: Windows 10 (64-bit only)
DirectX Version: DirectX 12
Additional note: Requires GPU with DirectX 12 (Feature Level 12_0) support
4K System Requirements for 2160p at 30fps
Processor (AMD / INTEL): Ryzen 7 3700X – 3.6 Ghz / i7 – 9700K – 3.6 Ghz
RAM: 16 GB (Dual-channel mode)
Video Card: AMD RX 5700XT – 8GB / GeForce RTX 2080 – 8GB
Storage: SSD (50 GB)
Operating system: Windows 10 (64-bit only)
DirectX Version: DirectX 12
Assassin Creed Valhalla Download for PC from softonic.com
Crack download from group.google.com
What platform Assassin's Creed Valhalla come out on?
The game is out on 10th November 2020 and it is available for PC, Xbox One, Xbox Series X, Xbox Series S, Stadia.
In fact, in the United States and Australia it was available on 12th November 2020, And 19th November in Europe on PS5 [Play Station 5].
We cannot guarantee if anything is wrong on this page. In fact, you can contact us to let us know if we are missing something on our page or you need more information about this page. By the way, thank you for your visit.