Hello Guys……
To become a successful person it is necessary that you use your free time in the right place.
That is why today we have brought some amazing Easy online Jobs for you, which you can start from your home today and can easily earn more than ₹ 10,000 every month.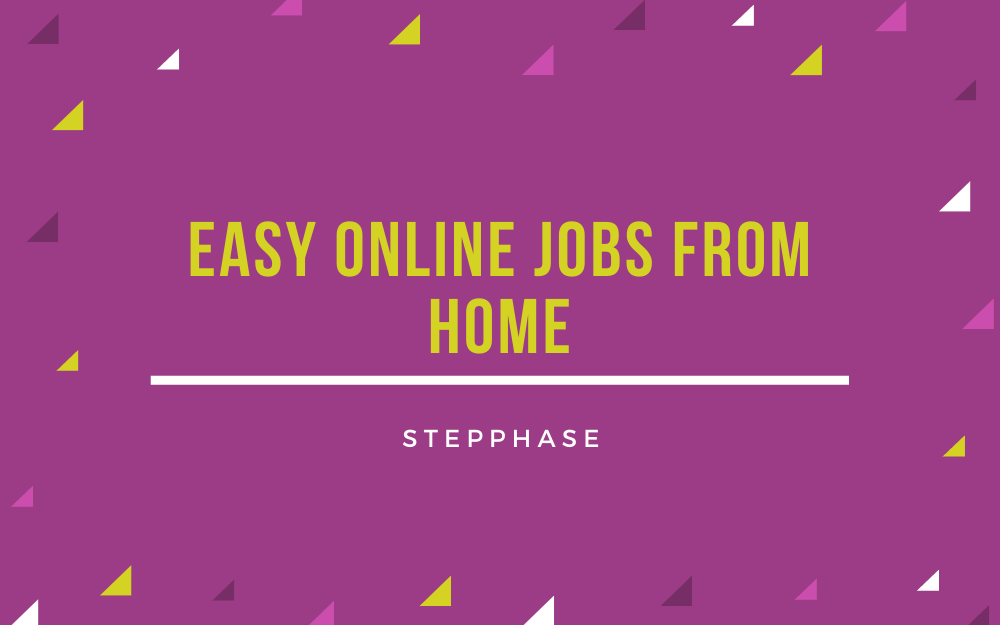 I will tell you the ways of Easy Online Jobs through which you can earn thousands of rupees. But in this, you will have to give a little time; only then can you earn money. It is not a trick or magic that you will start earning money overnight and will leave. Here you have to work hard, and by upgrading your skills you will have to work every day.
So are you ready to know the list of those part-time jobs ->
Easy online jobs from home that pay
The most important thing about these online part-time jobs is that –
They can be done by a Student, House Wife, or anyone.
It is completely online and is Work From Home.
For this, you need to have a laptop, mobile, and especially an Internet Connection.
And the biggest thing is that there is no limit to Make Money Online.
So let's start those Easy Online Jobs List that you can easily start from today ->
E-Book Cover Design
How many times have we purchased a product by design? And have you gone to watch a movie based on its poster? And have you ever judged a book by its cover? Of course, you have! They say an image is worth a thousand words, and when it comes to choosing a novel, we opt for those original book covers and those with surprising designs that attract our attention, although the most crucial aspect is the content.
If you go to marketplaces like Fiverr or Upwork, there is a lot of demand for such services. Now you know tools like Photoshop well then you can easily sell your service. And if you do not know this, do not worry, you can refer to sites like Canva.com or Stencil.com where you will get ready-made templates. Which you can edit according to your client's requirements.
Other than these on EDIT.org, they provide you with all the tools needed to create your own book cover from editable templates, free, simple, and in less than a minute. So by selling this service, you can easily earn money.
Social Media Post Design
Who does not use social media nowadays ..! Everybody does And this has become a very good way of earning. Yes, you heard right, you can do maximum earning on social media as well.
The social media post design is a very easy way to earn money sitting at home. Anyone can do this job, whether it is a student, housewife or if you want, you can do this job part-time too. In fact, any creative person will be able to do very well. You can make posts on the accounts of any 2 or 3 social media influencers and collect a lot of money.
Now again, if you know tools like Photoshop, then you can easily sell your service. And if you do not know this, you can refer to sites like Canva.com or Stencil.com, where you will get ready-made templates. Which you can edit according to your client's requirements.
Here I want to share with you some interesting and useful Social Media Design tips ->
1: Use High-Quality Photography
2: Use a Variety of Visual Content
3: Brand Your Graphics
4: Keep Fonts & Colors Consistent
5: Choose The Right Size
Also Read: Earn Thousands per Post 
Virtual Assistant
A virtual assistant is a type of personal assistant who handles the minor tasks of their clients. So you can handle the work of your clients online virtually. such as scheduling their meetings, and setting up their emails or you can do many types of tasks for them.
A virtual assistant is a self-employed worker who specializes in offering administrative services to clients from a remote location, usually a home office.
Typical tasks a virtual assistant might perform include scheduling appointments, making phone calls, making travel arrangements, and managing email accounts.
Some virtual assistants specialize in offering graphic design, blog writing, bookkeeping, social media, and marketing services.
For an employer, one advantage of hiring a virtual assistant is the flexibility to contract for just the services they need.
Generally, How much Does Virtual Assistant Cost?
Hiring a virtual assistant typically costs anywhere from $1 to $100 or more per hour, depending on several factors, including their location, their experience and expertise, and the tasks they help you with. For example, in a virtual assistant job, a virtual assistant who provides specialized services like content creation would typically charge more than one who helps with administrative services.
Audio To Text
People doing jobs like audio-to-text are known as transcriptionists. What do you have to do in this work ..? You just have to listen. Confused..? Wait, I can explain it to you a little easier. Whatever file you will get from your client, you have to easily go to Google and search for an audio-to-text converter, and your work is done. You have to give that file to your client and in this way, you can earn money…!
According to me, transcription is a well-paying career with many opportunities. A transcriptionist's salary is generally around $15, while an advanced transcriptionist earns around $25 to $30 per hour. With this rate, you can easily earn $1,500 every month if you work 2.5 hours per day for 24 days.
Some Key Points That Will Decide a Transcriptionist's Salary ->
The exact amount of money you would earn working as a transcriptionist depends upon many variables. Those include:
The company you are working for
The exact volume of work that you are doing, as well as
Your speed and
Ok, guys, no need to say thank you. Haha, you can do any kind of job out of all these jobs that we have told you about, and you can earn a lot of money. So this was an easy online job from home without any investment. Please tell us, by commenting, which job you like more easily or would like to do. Thank you…!
We are here to hear from you
After all, you can contact us to let us know if we are missing something on our page. I hope you like and thank you for your visit
More like this kind of job ->
7 Useful Ways to Earn Money From Home for Housewives(Opens in a new browser tab)
12 Easiest Ways to Make Money Online 2023 Updated(Opens in a new browser tab)
7 Best Ways to Grow your Social Media Audience: 2022(Opens in a new browser tab)
7 platforms to work online and earn money from home(Opens in a new browser tab)