The newest laptop from the brand is slim and powerful enough to handle heavy workloads.
Huawei's MateBook line includes some of the best and most reasonably priced laptops on the market.
It closely resembles Apple's MacBook Pro series in terms of appearance and aesthetic, but it outperforms comparably priced laptops in terms of pricing and specs.
We adored the MateBook X Pro from 2021. It has an eye-catching new emerald green finish and quick performance for handling heavy professional workloads.
The 2022 model, on the other hand, has a new semi-matte metallic covering, improves the laptop's wonky webcam placement, and receives an internal upgrade with a 12th-generation Intel CPU. Over the model from the previous year, that is a significant performance improvement.
The Huawei MateBook X Pro's 2022 update has been put through its paces so that we can share our assessment with you. For a complete evaluation, keep reading.
Huawei Matebook X Pro: £1,699, Currys.co.uk
CPU: Intel Core i7 1260P
Graphics: Intel Iris Xe
RAM: 16GB DDR4
Screen: 14.2in, 3120p x 2080p
Storage: 1TB SSD
Pros: Bright, rich display, sleek design, powerful performance
Cons: Expensive, average battery life
The Huawei MateBook X Pro is one of the greatest Windows laptops on the market. Although it costs a hefty £1,699 and is the closest thing to a Windows Macbook you'll find, its overall performance and luxuriously contrasty display show that it's more than just a basic knockoff laptop.
The 2022 Huawei MateBook X Pro pro is a real challenger to Apple's hegemony in the lightweight laptop market, and it offers better value for money than other models from Dell and Microsoft.
Design
The 2022 Huawei MateBook X Pro's chassis isn't much that different from the one from the previous year. It is still a superbly made, small, magazine-thin device with minimum branding save from an Intel Evo label, covert venting, and a shallow, delightfully comfortable keyboard.
Huawei chose a matte finish this year rather than the glossy, beetle-shell shine of the emerald green 2021 model, which should appeal to users in the centre of the market.
The laptop was designed to open gracefully with a single finger, just like it could last year. The 2022 version is somewhat bigger and marginally lighter than the earlier iteration. To notice the change, you'd need to compare the touchpad and the laptop's bottom edge side by side.
Display and audio
You can see why the Huawei MateBook X Pro is still one of our top-rated laptops by opening it. The smooth 90Hz refresh rate and 3120 x 2080 resolution of the 14.2-inch display creates a realistic-looking sense of movement on-screen. Its high brightness prevents detail from being lost in the screen's darker areas, making it an excellent laptop for entertainment as well as for use in offices and during daylight hours, when dim screens might appear washed-out and pale.
The Huawei MateBook X Pro's screen has a 3:2 aspect ratio, making it roughly the same size and shape as an A4 piece of paper. For more useful tasks like online browsing and document editing, that is taller than the increasingly antiquated 16:9 widescreen display (the same one you have on your television).
The four front-firing speakers on the 2021 model astonished us because they produced powerful audio for such a tiny laptop. The 2022 version slightly improves on this by adding an additional pair of speakers that manage to create a deep, bassy sound without adding too much distortion. They are very clear in the voice range, which is advantageous for Zoom conversations and video conferencing.
Webcam
The primary complaint raised against the Huawei MateBook X Pro last year was the webcam's unusual placement, which was hidden beneath a pop-up key on the keyboard, giving coworkers an ugly view straight up your nostrils during calls. This is fixed in the 2022 version, which gives you a less-alien-appearing presence in meetings by positioning the webcam above the screen where it belongs.
Although Huawei was able to do this without significantly expanding the screen's border, the camera still isn't very good. In low light, which for the UK is five months out of the year, the 720p resolution appears grainy and out of focus, but the audio quality is clear and sharp and is zhuzheed up by Huawei's fancy processing effects.
Performance
The most significant changes this year can be seen under the hood. The latest Intel Core i7 1260P processor, a power-efficient chip made for ultrathin portables, is used in the Huawei Matebook X Pro configuration that we evaluated. It is backed by 16GB of RAM. This has more than enough power to complete daily chores, manage memory-intensive Chrome tabs, and stream media.
Additionally, it provides a lot of performance headroom for tasks that require more, such as creative work that uses a lot of memory. Therefore, this portable laptop is well-suited for Adobe Creative Suite photo, video, and audio editing.
Although this is still a device focused on work, the energy-efficient CPU and integrated graphics chip aren't a great match for serious gaming, but they'll happily handle less graphically demanding titles. This laptop is unaffected by the occasional game of Football Manager or Minecraft, and when it does start working hard, the cooling system is typically silent and unobtrusive.
The MateBook X Pro has two Thunderbolt 4 USB-C connections on one side and another pair on the right. As a result of the loss of the older USB-A connector, an additional dongle is required to plug in some accessories, but it is sufficient to simultaneously fast charge the laptop and attach a display. Although Huawei supplies a USB-A adaptor in the package, if you want an HDMI connection or an SD card reader, you'll have to pay extra.
Battery life
The Huawei MateBook X Pro can consume energy like it's at a buffet thanks to its brilliant, high-resolution display and 90Hz refresh rate. You'll get a solid seven to eight hours of use between charges if you keep the refresh rate set to the default 60Hz and pay attention to screen brightness.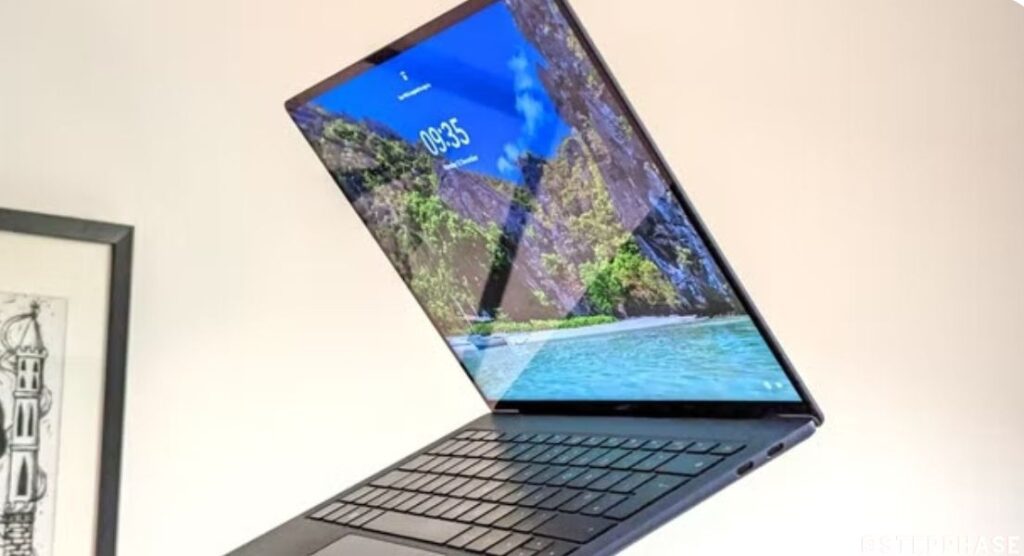 That's fine if you frequently use your laptop close to a plug outlet, but for a truly portable device that can confidently make it across the Atlantic without shutting down over Greenland, the new Microsoft Surface Laptop 5 or the Dell XPS 15 in its non-OLED configuration are better choices in this price range.
Huawei MateBook X Pro 2022 is the winner.
The Huawei MateBook X Pro 2022 upgrade is a fantastic Windows notebook with a stunningly sharp, 90Hz display and top-tier performance. Along with modernizing the components surrounding the 12th generation Intel chip, Huawei has also addressed our greatest complaint with the previous model by moving the webcam to the top of the display.
However, the limited number of connectors is frustrating and makes attaching external devices like specialized webcams and microphones a hassle. At least the laptop has a dongle for HDMI, VGA, and USB-A connections.
Although the MateBook X Pro costs $1,699, we think it looks better than the smaller Dell XPS 13, which is £50 less expensive. Additionally, it boasts a better display than the £1,699 Surface Laptop 5, which has the same specifications. Even if you spent less, it would be difficult to find an ultralight Windows 11 laptop with this level of refinement.