Choosing a new television is a really difficult task there is always a question?
Yes like about which tv to buy or what to look for a TV.
It is enough to take a look at any online store like Amazon or on the shelves of specialized commercial areas to realize the enormous number of proposals that are available to the potential buyer.
Which TV to Buy
The most positive point, the result of competition, is that we currently find very good proposals for relatively little money. Smart TVs, LED panels, a multitude of sizes, different operating systems … Such a complex amalgam that it will take time to choose the one that best suits your needs.
But it is not as difficult as it may sound. The first cut that must be overcome is the one related to the budget. A fork of money that we want to spend will eliminate many options from the market and, most importantly, not be guided by thinking that something because it is more expensive, is better.
Screen Size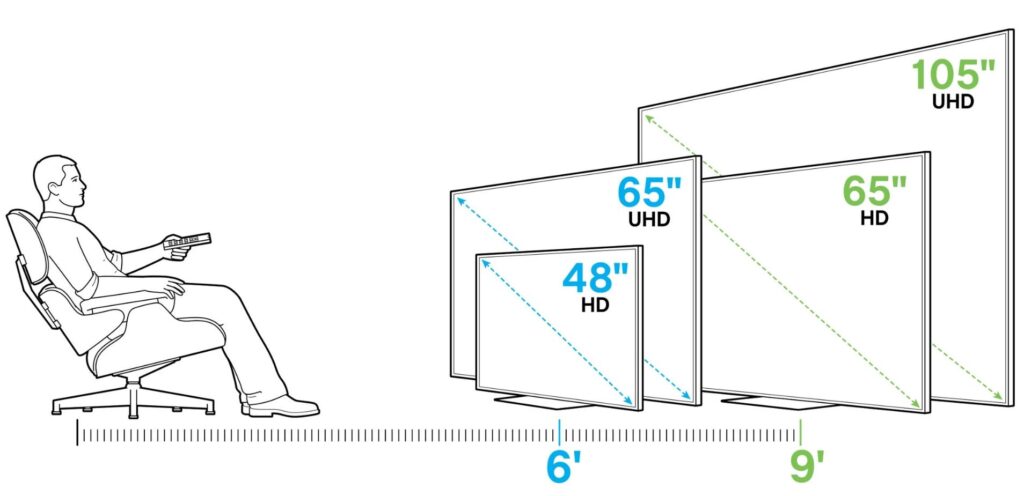 After budgeting, choosing a correct panel size is usually the second step. First of all, and to avoid 'scares', it is convenient to measure the available space we have to place the television.
Just a tape measure to use and then check the measurements provided by the manufacturer on its website for each model of TV.
The next step is to choose the correct inches within the available space. Surely we have ever seen each other in a living room with a television that is too large that seems to be the protagonist of the room. It seems 'that we are inside the screen'. To prevent this from happening, the following table is usually used:

Of course, they are the optimal measurements taken from a study carried out by the OCU in 2016,
There will be people who like to have a larger screen and others who opt for something more discreet downwards.
From 1.5 to 2 meters from the TV: 32 inches of screen.
2 to 2.5 meters: between 40 and 45 inches.
2.5 meters to 3 meters: 46 to 49 inches.
3 to 3.5 meters: 50 to 55 inches.
More than 3.5 meters: from 60 inches.
Bigger is not better
As with the price, being a large television does not necessarily have to be better. It is one of the most difficult ideas to leave behind. As we have discussed, the TV must adjust to the viewing distance while the increase in inches must also be matched with an increase in resolution.
To take an extreme example, a 60-inch panel with FullHD resolution (1920 x 1080 pixels) doesn't make any sense. It will look really bad while a 32-inch with that resolution is more than acceptable. Currently, basically, 3 resolution scales are handled: FullHD, 4K, and 8K.
The first 2 are the most popular today, with FullHD being the one chosen for a few inch televisions or for the cheapest ones and 4K as the current standard in panels of all kinds. The 8K is very strong and the large television houses are already betting on this technology in its different branches.
But the truth is that there is still little native content in that resolution and perhaps it is more a purchase thinking about the future with a very high-end TV with significant size.
LED, OLED, QLED – Which TV to Buy
The ultimate fight. The two most popular types of technology you are fighting today, each with their weapons, being chosen by buyers. A lot has been written about which of them is better and the truth is that 'it goes by taste'. OLED screens have much more intense blacks, but they have the disadvantage that they can end up 'burning'.
That is, that having fixed images on the screen -such as flies on television channels- cast shadows and remain marked even though they are no longer on the screen.
OLED panels, with LG as the maximum exponent, are only available from 55 inches so if our next television has fewer inches we must choose one with an LED panel. This technology is more appropriate for those televisions that will be on for many hours a day because still, images are not a problem for them.
The most widespread in this segment is the QLED with Samsung as the standard-bearer, one that promises displays with vibrant colors without the problem of the 'burning' of OLEDs. Two very different ways of understanding how an image should look and that will depend on the tastes of each person.
Mini-LED and micro-LED panels have recently existed, which aims to unite the benefits of traditional OLEDs and LCD-LEDs. At the moment there are few proposals on the market using these panels and those that exist go up in price. If they manage to establish themselves, and as more brands use them, they will surely end up getting cheaper.
Also related to screens we find the different technologies that brands contribute to improving the image. The HDR (High Dynamic Range, in English) enhances the contrast of colors making them more vivid. The standard currently being used is HDR10 + along with Dolby Vision.
If we are going to opt for high-mid-range televisions we will have to see if they carry any of these technologies because, really, it shows on a day-to-day basis.
Sound
One of the most important points when it comes to enjoying a good movie, series, or video game is sound. A bad one remains entirely in the user experience and a good one makes us dive much more into the story.
With very few exceptions, we will have to resort to one of the external soundbars that the brands put at your disposal. As with TVs, there are countless proposals for all prices. Due to timing issues, it may be a good idea to opt for a television brand soundbar and take into account the technology that the television provides regarding sound.
This segment of devices has evolved a lot in recent years and some brands already offer complete suites with artificial intelligence that study the environment. And other specifications of the latest technology and the integration of Dolby Atmos or DTS: X. A good soundbar is capable of offering a user experience similar to more complex home theater equipment to install.
Smart TV
To close the points in which to look at when buying a new television is the smart television section. The smart TV feature all kinds of applications and improved connectivity that will, among other things, see the screen of your smartphone or computer on the TV.
Within the apps, we can find some such as Netflix, Disney +, Prime Video, Apple TV +, HBO, news applications, weather, games …
Televisions have become with these operating systems in centers of much more complete entertainment they were before. They have gone from being passive to active objects thanks to the interaction that they are beginning to offer little by little. It is almost difficult nowadays not to find different smart TV platforms at all prices.
Other solutions such as Apple TV or the Amazon Fire TV Stick have allowed this to be promoted a lot and it has been a major change. They have allowed old TVs or those without smart functions to enjoy applications, games, and entire ecosystems for very little money.
Which TV to Buy?
OnePlus Y Series 80 cm (32 inches) HD Ready LED Smart Android TV 32Y1 (Black) (2020 Model)
Price: ₹ 14,999.00
Buy Now: https://amzn.to/3ntIq7w
MI TV 4A Horizon Edition 108cm (43 inches) Full HD Android LED TV (Black)
Price: ₹ 23,499.00
Buy Now: https://amzn.to/3nwtR38
You can contact us to let us know if we are missing something on our page. I hope you like it and thank you for your visit.